MACHINE HEAD release 'ARRØWS IN WØRDS FRØM THE SKY' video, in mobile-friendly aspect Last year, Bay Area metal icons MACHINE HEAD released their 10th studio album, ØF KINGDØM AND CRØWN on Nuclear Blast. Today, the band releases the music video for the track 'ARRØWS IN WØRDS FRØM THE SKY'. Directed by Jon (Jern) Watson and edited by Mike Sloat, the mobile-friendly video features live footage from the band's 2022 U.S. and European tours.

Watch the mobile-friendly music video for 'ARRØWS IN WØRDS FRØM THE SKY', below.
MACHINE HEAD's Robb Flynn comments: "The last few videos have been very artistic and thematic continuing the black & white scope of the concept record. For this we just wanted to have an old school, 90's style live video, that is more or less a tribute to our absolutely insane fans (the Head Cases) going bat shit crazy, mixed with some good ol' life-on-the-road-getting-hammered-backstage-vibe. Enjoy!"
Watch 'NØ GØDS, NØ MASTERS', 'MY HANDS ARE EMPTY', 'UNHALLØWED – Live from Electric Happy Hour' and 'CHØKE ØN THE ASHES ØF YØUR HATE' below.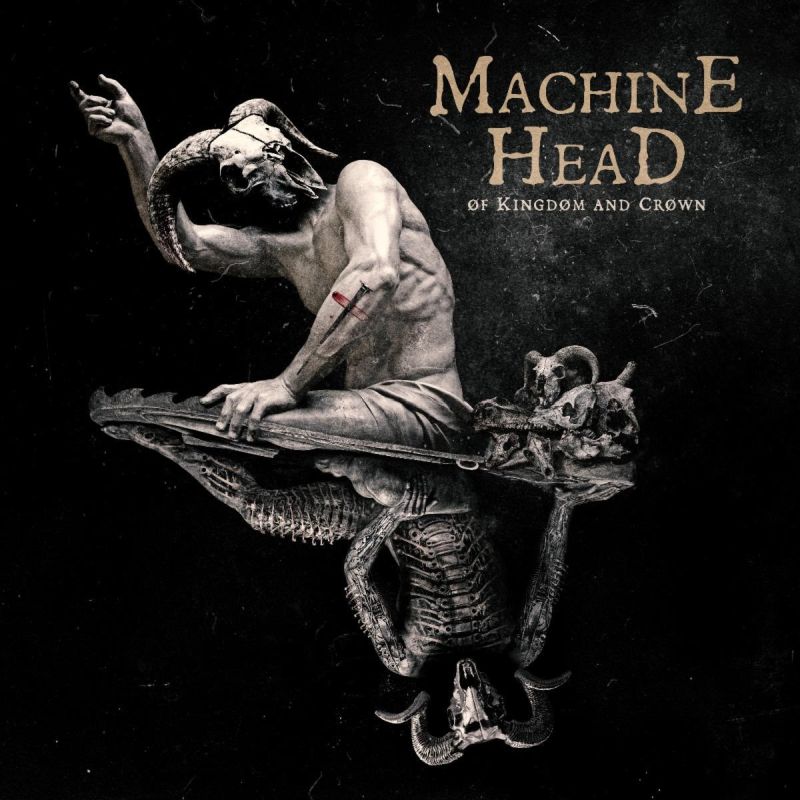 'ØF KINGDØM AND CRØWN' is a 13 track concept album set in a decimated futuristic wasteland where the sky is stained crimson red. The crux of the story is based on 2 main characters:
 
Character #1 Ares: (pronounced Aries), our main, who loses the love of his life (Amethyst) and goes on a murderous rampage against the vile sect responsible for her murder.
 
Character #2 Eros: (pronounced Arrows) the perpetrator, who loses his mother to a drug overdose and becomes radicalized in the aftermath. Eros goes off the deep end manifesting his own killing spree.
 
The lyrics detail how their lives intertwine.
 
MACHINE HEAD founder Robb Flynn comments:
"Thanks to my 2 teenage boys my family has become obsessed with this awesome Japanese anime series called "Attack On Titan." The album's concept was loosely inspired by the series in the sense that in the storyline, there is no "good" or "bad" guy, both characters believe they're doing the right thing as it applies to their being, but make no mistake, both are committing acts of pure atrocity and evil. The opening track "SLAUGHTER THE MARTYR" is basically our character #1's origin story."
 
The colossal concept comes with a list of equally colossal packaging for various physical formats including 16 different worldwide vinyl formats, deluxe vinyl box set (with bonus tracks), CDs (both old-school longbox and jewel box options), multi-color cassettes, and a limited-edition Digipak with bonus tracks.
 
CDs, Digipak, cassettes, and all digital formats will be available on Aug 26th, with all vinyl formats arriving on Nov 25th.
ØF KINGDØM AND CRØWN
MACHINE HEAD
Track Listing:
1. SLAUGHTER THE MARTYR
2. CHØKE ØN THE ASHES ØF YØUR HATE
3. BECØME THE FIRESTØRM
4. ØVERDØSE
5. MY HANDS ARE EMPTY
6. UNHALLØWED
7. ASSIMILATE
8. KILL THY ENEMIES
9. NØ GØDS, NØ MASTERS
10. BLØØDSHØT
11. RØTTEN
12. TERMINUS
13. ARRØWS IN WØRDS FRØM THE SKY
ORDER MACHINE HEAD'S ALBUM "ØF KINGDØM AND CRØWN" AT THIS LOCATION.