HELLOWEEN release animation clip for 'Out For The Glory'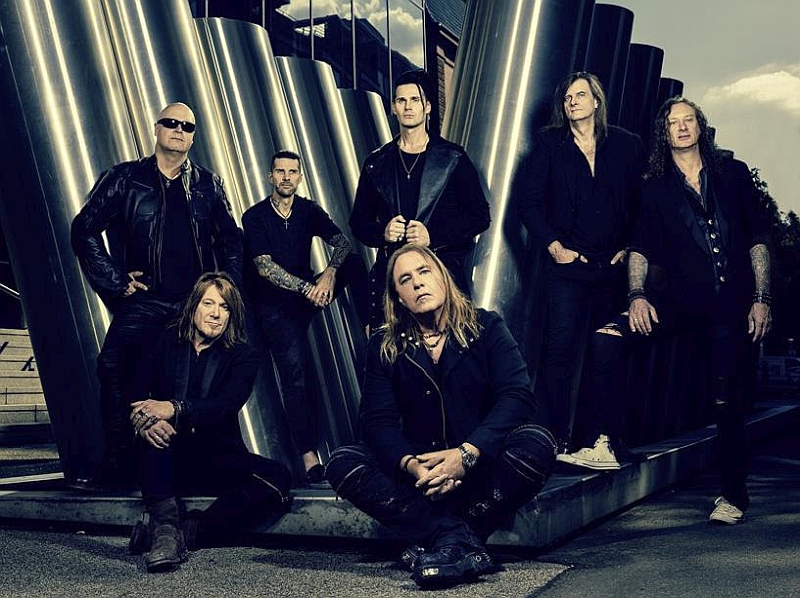 HELLOWEEN released their last album "Helloween" last June. The  animated video for 'Out For The Glory' is now released. 
Watch 'Out For The Glory' below.
"I had an idea for a video where all band members are depicted as dinky, odd noble courtiers and ministers," Michael Weikath explains. "All of us should be floating in the clouds, Deris as a nutty emperor…and after a while more and more details came up and at one point in time we wrote everything down and sent the video concept to the Australian animation team." Aaron McLoughlin, Senior Lecturer at the University of Melbourne, who has already been involved in several projects with Atomic Fire Records CEO Florian Milz (e.g. for CHILDREN OF BODOM, ALESTORM, TANKARD) mentioned: "When I heard that HELLOWEEN is interested in a collaboration I was totally gobsmacked. The boys are my absolute heroes since I was a teenager and I was sure that my students would love to work on a song by this band."And typically HELLOWEEN – the creativity was so outrageous that it was impossible to feature everything in one music video. "Seven and a half minutes might not sound like a lot but in animation terms it is a marathon. We had so much great stuff that the production of 'Out For The Glory' was a real challenge. Weiki wanted the video to look as cute as possible and we immediately knew: a legendary band from the other side of the planet wants us to create a medieval epic full of cuteness? You bet!" McLoughlin recollects.
Credits:
Video script co-writing by Kati Rausch (Instagram: @katirauschofficial); Administration: Melanie Avent & Lee Henry; Production: Melanie Avent, Juan Chacon-Olier, Aaron McLoughlin, Amy Wang; Animation: Melanie Avent, Yunlin Bai, Anastasia Beth, Rali Beynon, Noah Cail, Xinyu Chen, Wendy Cui, Cross Ferrer, Dannielle Gilbert, Lee Henry, Nicole Huang, Carmen Kusumo, Xueqi Li, Jacynth Lim, Robert Luu, Rongrong Mai, Huey Jing Ng, Hoang Gia Nguyen, Gabrielle Poh, Herschel Rego, Courtney Spencer, Kate Tandoc, Vy Trinh, Hoai Diem Suong Truong, Amy Wang, Ari Xu, Haowen Xue, Joy Zou.
TRACKLISTING "HELLOWEEN"
01 – Out For The Glory
02 – Fear Of The Fallen      
03 – Best Time              
04 – Mass Pollution                  
05 – Angels                                   
06 – Rise Without Chains          
07 – Indestructible                      
08 – Robot King                         
09 – Cyanide                                  
10 – Down In The Dumps         
11 – Orbit                                        
12 – Skyfall
Bonustracks Mediabook & Vinyl:
01 – Golden Times                         
02 – Save My Hide                        
 
Bonustracks Earbook
01 – Golden Times                         
02 – Save My Hide                        
03 – Pumpkins United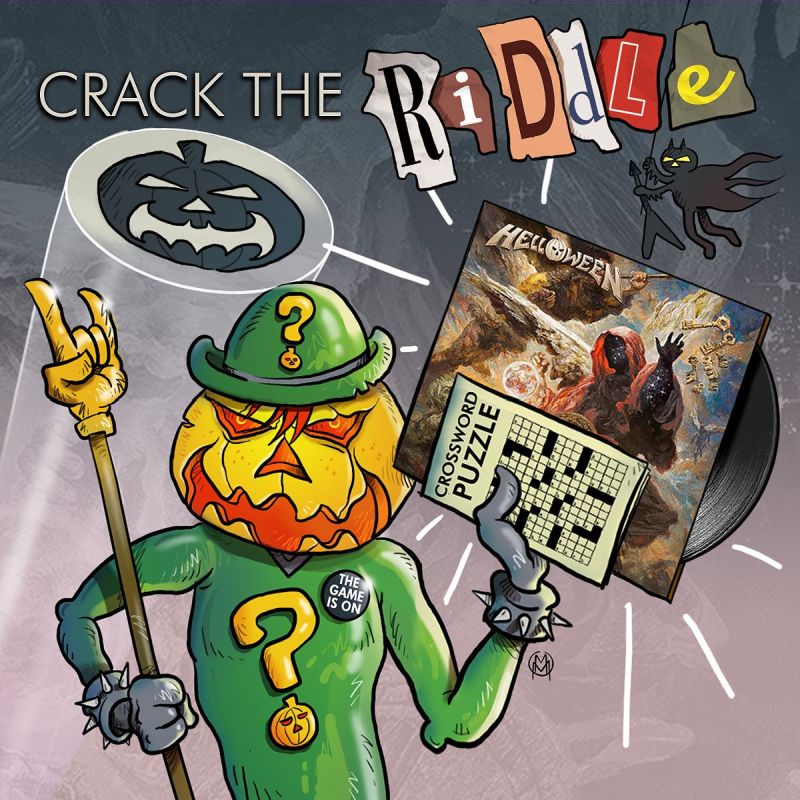 But there is even more to come: Join HELLOWEEN on their lottery CRACK THE RIDDLE.
Fans can win two tickets and a meet & greet for every country of the upcoming world tour!
 
In the artwork of the mediabook, earbook & boxset edition of their upcoming self titled album, HELLOWEEN have included a game called CRACK THE RIDDLE. Fans have to find the solution code throughout the entire booklet to participate. Lottery win is two tickets for a concert of their choice* including a MEET AND GREET WITH THE BAND! The band will draw a lucky winner for every country of their upcoming world tour!  
All fans have to do is enter the solution code on helloween.org and keep the fingers crossed!
 
The lottery begins today with the release of the album HELLOWEEN and ends July, 31st. 
The lucky winners will be notified via e-mail on Halloween (October 31st, 2021).
 
On top, every participant of the lottery will receive 10% off the next order in the official HELLOWEEN online store www.pumpkins-store.com by using the discount code displayed at the checkout.**
 
*Does not include any compensation for travel and accommodation
**Offer is valid until July 31st, 2021. Cannot be combined with other offers or previous orders
HELLOWEEN & HAMMERFALL
UNITED FORCES TOUR 2022
presented by Metal Hammer, Rockantenne, Piranha, Start, Rocks & Rock It
25-Mar-2022  NOR  Oslo – Sentrum Scene
26-Mar-2022  SWE  Gothenburg – Partille Arena  
28-Mar-2022  FIN  Helsinki – Black Box
29-Mar-2022  EST  Tallinn – Noblessneri Valukoda                                
01-Apr-2022  GER  Bamberg – Brose Arena
02-Apr-2022  GER  Hamburg – Sporthalle
03-Apr-2022  GER  Berlin – Verti Music Hall
04-Apr-2022  GER  Regensburg – Donau Arena                                  
08-Apr-2022  ES  Madrid – Wizink Center
09-Apr-2022  ES  Barcelona – St. Jordi Club                   
11-Apr-2022  IT  Milan – Lorenzini District
12-Apr-2022  GER  Kempten – bigBOX
13-Apr-2022  CH  Zürich – Samsung Hall   
15-Apr-2022  LUX  Luxemburg – Rockhal
16-Apr-2022  NL  Tilburg – 013                      
18-Apr-2022  PL  Katovice – MCK                    
20-Apr-2022  BG  Sofia – Arena Armeec                 
22-Apr-2022  AT  Vienna – Gasometer
23-Apr-2022  CZ  Prag -O2
24-Apr-2022  SK  Zvolen – Ice Stadium                     
26-Apr-2022  HU  Budapest – Papp Laszlo Sportarena                            
29-Apr-2022  GER  Bochum – Ruhrcongress
30-Apr-2022  GER  Stuttgart – Schleyerhalle
01-May-2022  GER  Frankfurt – Jahrhunderthalle                           
04-May-2022  UK  Manchester – Manchester Academy
05-May-2022  UK  London – Brixton Academy
19-May-2022  RU  St. Petersburg – A2*
21-May-2022  RU  Moscow – Adrenaline-Stadium*
23-May-2022  FR  Lyon – Transbordeur*
25-May-2022  FR  Paris – Olympia*
* without HAMMERFALL
Tickets: https://bit.ly/2E1KcHE
Helloween tickets that have already been purchased remain valid