HEIDEVOLK release video for album title track "Wederkeer"
Announce album release shows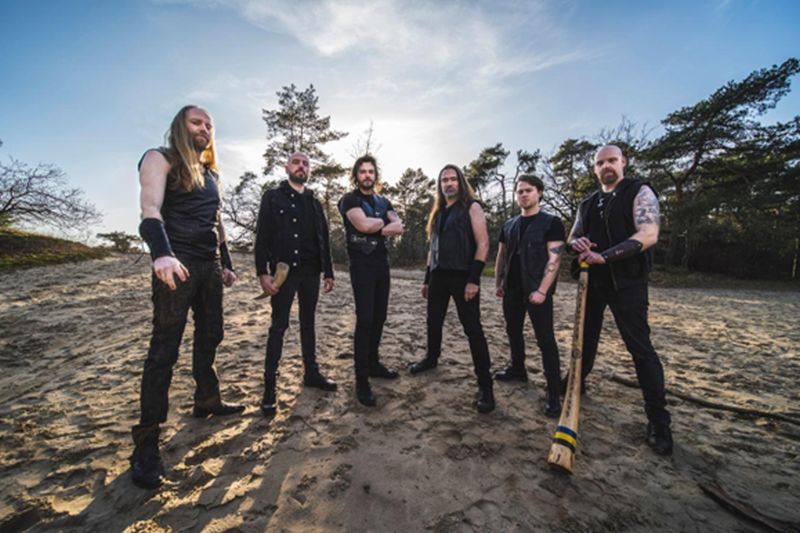 February 24, 2023 will see Dutch pagan folk metal HEIDEVOLK return with their seventh studio album, WEDERKEER, via Napalm Records. After previously-released first album singles, "Klauwen Vooruit" and "Drink met de Goden (Walhalla)", today, HEIDEVOLK have premiered a brand new music video for the epic, acoustic album title track.
Watch "WEDERKEER" below.
The band comments:"Today we proudly present our third music video from WEDERKEER!
The titletrack "Wederkeer" is a powerful acoustic anthem about inner strength, pride and beliefs. In the video we witness a young woman wandering through the cold dark forest. She is lost yet something inside her fuels her quest and tells her to persist. Suddenly a luring hymn draws her to the scene of glimmering flares of a fire through the trees, and shadows of men singing a pure and uncompromising anthem. When she eventually enters the circle of light, the scene she thought she witnessed has disappeared, as if it was never there…
With the release of our new album drawing near this raw acoustic track gives you yet another glimpse of what is coming your way. Join us, for the Pagan Metal Brotherhood is on the rise!"
The band has announced a string of album release shows:
HEIDEVOLK Live:23.02.2023 (NL) Arnhem / LuxorLive 24.02.2023 (NL) Rotterdam / Baroeg 25.02.2023  (DE) Oberhausen / Helvete 26.02.2023 (NL) Drachten / Iduna
Watch the previously released  "Klauwen Vooruit" en"Drink met de Goden (Walhalla)" below.
The album was recorded at Sandlane Recording Facilities, mixed by Joost van den Broek and mastered by Darius van Helfteren. WEDERKEER once again proves that HEIDEVOLK knows how to perfectly release proud hymns and direct, in-your-face metal songs, and the addition of broad choirs, various folk musicians, on vocals, violins, cello, bukkehorns and more traditional medieval instruments make WEDERKEER not only a bombastic folk and pagan metal record at its best, but a glorious album return of HEIDEVOLK!
Pre orders are available AT THIS LOCATION.
WEDERKEER track listing:01. Hagalaz 02. Drink met de Goden (Walhalla) 03. Klauwen Vooruit 04. Schildenmuur 05. De Strijd Duurt Voort 06. Oeros 07. Wederkeer 08. IJzige Nacht 09. Raidho 10. Ver Verlangen 11. Holda 12. Zomervuur 13. Drinking with the Gods (Valhalla) *Included on physical versions only14. The Hunter's Claw *Included on physical versions only
WEDERKEER will be available in the following formats:– 6 page CD Digipak – 2 LP Gatefold Vinyl Dark Green – Deluxe Wooden Box – Digital album