GWAR releases new song 'Berserker Mode'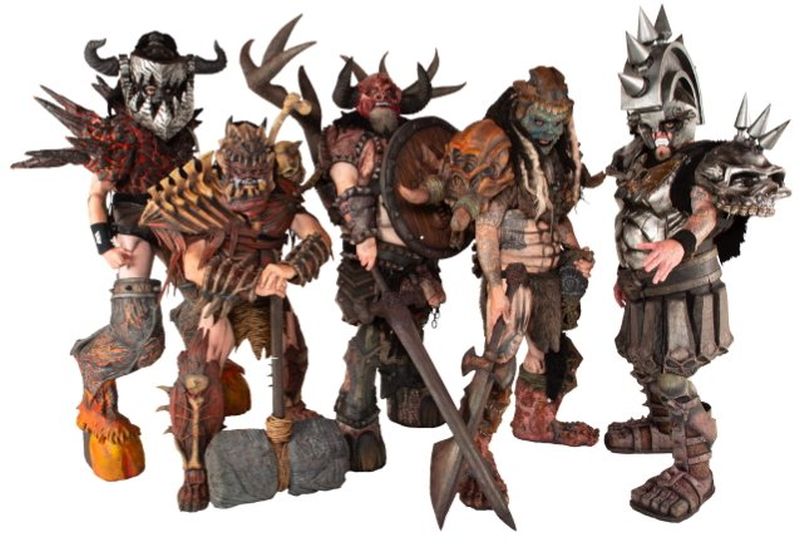 GWAR has released a new song called "Berserker Mode". The track is taken from the band's upcoming album, "The New Dark Ages", which will arrive on CD/digital June 3 and vinyl and cassette on September 16 via GWAR's own Pit Records. The visualizer for the song features the first animated art cells from the band's upcoming graphic novel "GWAR In The Duoverse Of Absurdity".
Watch "Berserker Mode" below.
GWAR vocalist Blöthar The Berserker states: "This is my origin story, about transforming into a drug-jacked unpredictable liability on the battlefield. But like me, it has a softer side, a tale of the struggle of becoming my authentic self…a sexy, multi-donged, vajazzzled, Viking cow beast known as… The Berserker Blóthar!!"
Watch the previously released "Mother Fucking Liar" below.
"The New Dark Ages" chronicles GWAR's adventures in the Duoverse, where the band rediscovers old powers such as Blöthar's terrifying Berserker Mode, and encounter new allies, such as the murderous maven known as The Cutter. Along the way, they battle the living monuments of a lost cause and armies of undead soldiers who rise again to fight a new civil war.
"The New Dark Ages" track listing:
01. New Dark Age
02. Blood Libel
03. Berserker Mode
04. Mother Fucking Liar
05. Unto the Breach
06. Completely Fucked
07. The Cutter
08. Rise Again
09. The Beast Will Eat Itself
10. The Venom Of The Platypus
11. Ratcatcher
12. Bored to Death
13. Death Whistle Suite:
– Temple Ascent
– Starving Gods
– Deus Ex Monstrum
The album concept is tied to a companion graphic novel
"GWAR In The Duoverse Of Absurdity"
, which will also be released by 
Z2 Comics
 on June 3. In the graphic novel, the bandmembers are sucked off into an alternate universe to do battle with their evil twins and the specter of rogue technology.