GAEREA announce European tour Cathartic black metal outfit GAEREA have announced new European tour dates. The Vortex Society will not only bring darkness to various club shows during this run, also festivals will receive the mark of 'Mirage'. A full list of confirmed dates, including festival appearances and ticket links, can be found below.GAEREA comment trek: "The Undying Mirage shall march once again over Europe this Summer! In June, the Vortex Society will hunt several new Countries alongside a selection of massive Festivals. 15 Mind bending Nights of Cathartic Horror Soundscapes await. Join us!"GAEREA will be playing in support of their latest album 'Mirage', which was released on September 23, 2022 via Season of Mist. The album can still be found in various formats AT THIS LOCATION and streamed on all digital platforms AT THIS LOCATION.
GAEREA 08 Apr 23 Oslo (NO) Inferno Festival 2023 [TICKETS] 30 Apr 23 Hengelo (NL) Bloodshed Fest 2023 [TICKETS] 07 Jun 23 Budapest (HU) Durer Kert [TICKETS] 08 Jun 23 Belgrad (RS) Zappa 09 Jun 23 Zagreb (HR) Klub Mochrava 10 Jun 23 Vicenza (IT) Revolution Club [TICKETS] 11 Jun 23 Torino (IT) Ziggy Club 12 Jun 23 Zurich (CH) Dynamo, Werk 21 [TICKETS] 13 Jun 23 Pratteln (CH) Z7 [TICKETS] 14 Jun 23 Mainz (DE) Schon Schon [TICKETS] 15 Jun 23 Arnhem (NL) Willemeen [TICKETS] 17 Jun 23 Copenhagen (DK) Copenhell [TICKETS] 18 Jun 23 Gothenburg (SE) The Abyss [TICKETS] 21 Jun 23 Krakow (PL) Kamienna12 22 Jun 23 Warsaw (PL) Hydrozagadka 24 Jun 23 Spalene Porici (CZ) Basinfire Festival [TICKETS] 25 Jun 23 Ferropolis (DE) Full Force Festival [TICKETS] 07 Jul 23 Velké Mezirici (CZ) Fajtfest [TICKETS] 08 Jul 23 Jablunkov (CZ) Rock Café Southock 14 Jul 23 Anyksciai (LT) Devilstone Festival [TICKETS] 29 Jul 23 Freissenbuttel (DE) Burning Q Festival [TICKETS] 05 Aug 23 Brasov (RO) Rockstadt Festival [TICKETS] 11 Aug 23 Derbyshire (UK) Bloodstock Open Air [TICKETS] 12 Aug 23 Kortrijk (BE) Alcatraz Festival [TICKETS] 18 Aug 23 Dinkelsbuhl (DE) Summerbreeze Festival [TICKETS] 24 Aug 23 Eisfeld (DE) Wolfzeit Festival [TICKETS] 26 Aug 23 Walbrzych (PL) Metal Mine Festival [TICKETS]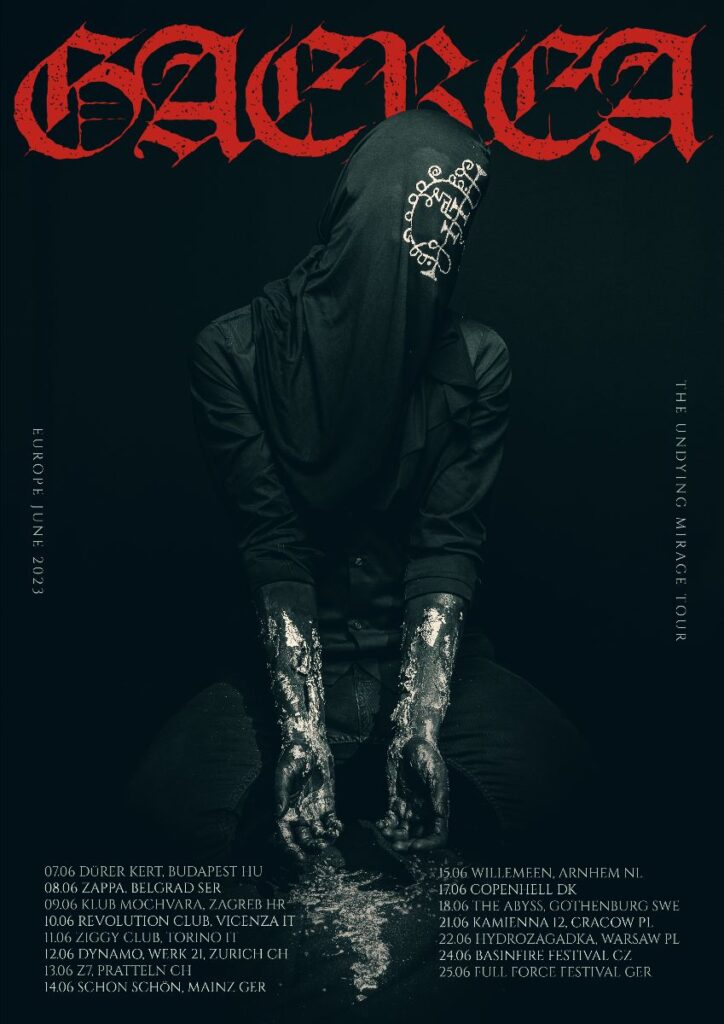 The cover artwork for 'Mirage', which is created by the SAROS Collective, can be found below along with the track-list and further album details.
Track-list1. Memoir (8:17) 2. Salve (5:26) [WATCH] 3. Deluge (6:31) 4. Arson (8:54) 5. Ebb (5:32) 6. Mirage (6:38) [WATCH] 7. Mantle (5:17) [WATCH] 8. Laude (6:26) [WATCH] 9. Dormant (Bonus track) (7:46)Total: 1:00:47