FOO FIGHTERS share another new song, 'The Teacher', from upcoming 'But Here We Are' album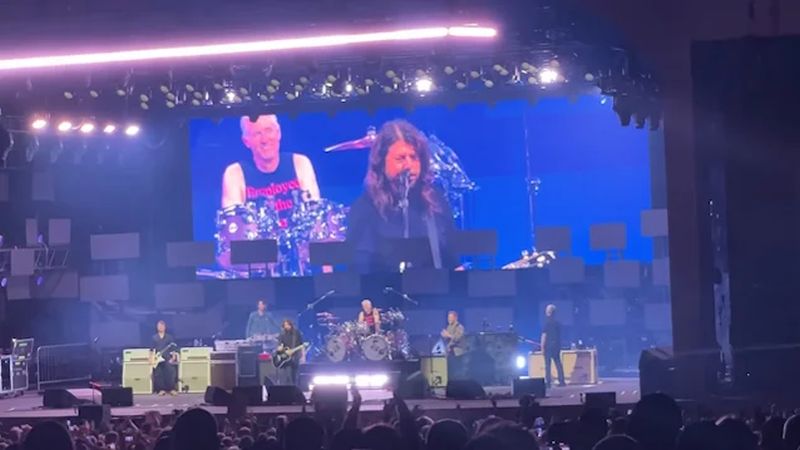 FOO FIGHTERS have unveiled "The Teacher", the fourth track to drop in advance of the Rock And Roll Hall Of Famers' eleventh album, "But Here We Are", due out June 2 on Roswell Records/RCA Records.
Watch "But Here We Are" below.
"The Teacher" complements the primal scream of "Rescued", the bittersweet punk/pop-tinged rock of "Under You" and the serene dream pop of "Show Me How" with a bold new dimension of FOO FIGHTERS' sonic identity. Both the longest song the band has ever recorded and arguably the shortest 10 minutes in rock history, "The Teacher" builds from an understated Dave Grohl and guitar intro, layering impressionistic lyrical refrains onto a series of crescendos, peaks and valleys, before saying goodbye in a blaze of audio overload. A rock epic in the truest sense, "The Teacher" is like nothing the band has done before, yet instantly identifiable as FOO FIGHTERS.
In other previously unexplored territory for FOO FIGHTERS, "The Teacher" scores a short film directed by multimedia artist Tony Oursler. Known since the late 1970s for his body of work spanning video, sculpture, installation, performance, and painting, Oursler came to FOO FIGHTERS' attention via his work with David Bowie, specifically his video for Bowie's landmark January 2013 single "Where Are We Now?" The resultant collaboration is a beautifully disorienting array of emotive non-linear imagery that transcends boundaries of time and space in its telling of the enigmatic tale of "The Teacher". If "The Teacher" is FOO FIGHTERS as you've never heard them, Oursler's visual interpretation is certainly FOO FIGHTERS as they've never been seen before.
The first new song to be released was "Rescued" — which has generated raves including "driven by a fresh sense of pathos and urgency" (The New York Times),"FOO FIGHTERS have never sounded more vital" (Consequence)," "one of the FOOS' most immediate, emotional songs" (Vulture),"delivers everything fans have come to know and love" (Revolver) and more.
A brutally honest and emotionally raw response to everything FOO FIGHTERS endured over the last year, "But Here We Are" is a testament to the healing powers of music, friendship and family.
Produced by Greg Kurstin and FOO FIGHTERS, "But Here We Are" is in nearly equal measure the eleventh FOO FIGHTERS album and the first chapter of the band's new life. Sonically channeling the naiveté of FOO FIGHTERS' 1995 debut, informed by decades of maturity and depth, "But Here We Are" is the sound of brothers finding refuge in the music that brought them together in the first place 28 years ago, a process that was as therapeutic as it was about a continuation of life.
"But Here We Are" track listing:
01. Rescued
02. Under You
03. Hearing Voices
04. But Here We Are
05. The Glass
06. Nothing At All
07. Show Me How
08. Beyond Me
09. The Teacher
10. Rest
FOO FIGHTERS played their first official concert with new drummer Josh Freese on May 24 at Bank Of New Hampshire Pavilion At Meadowbrook in Gilford, New Hampshire. The band launched the 21-song set with "Rescued" and performed three other cuts from the "But Here We Are" LP, "Under You", "Nothing At All" and the title track. The rest of the concert included the first performance of "Cold Day In The Sun" in five years, and frontman Dave Grohl's daughter Violet Grohl joining the band onstage for "Shame Shame".