NIGHTWISH zangeres FLOOR JANSEN bevestigd voor Pinkpop 2022
FLOOR JANSEN, MOTHER MOTHER EN DEAD POET SOCIETY MAKEN PROGRAMMA PINKPOP 2022 COMPLEET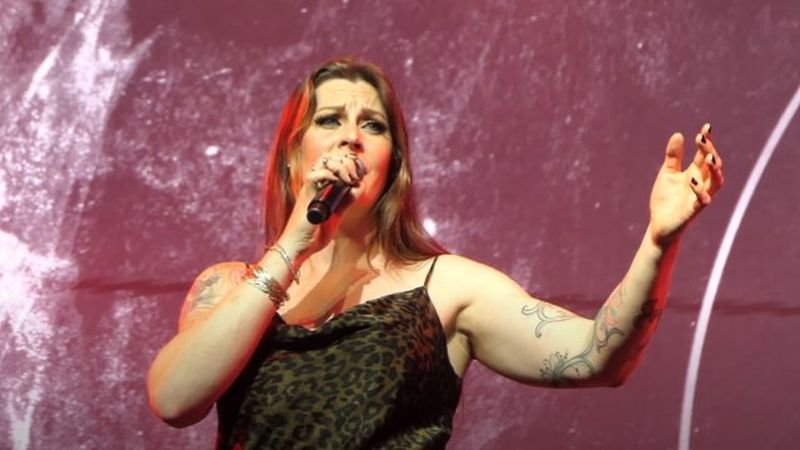 Het programma van de 51e Pinkpop editie is compleet. Met de toevoeging van Dead Poet Society op zondag en twee programmawijzigingen is het affiche vandaag afgerond. Floor Jansen vervangt The Pretty Reckless, die zich eerder moesten afmelden voor het festival. Daarnaast is Mother Mother aankomende juni op het Pinkpop podium te zien, nadat ook Kacey Musgraves genoodzaakt is Landgraaf over te slaan. Deze drie acts voegen zich bij het programma voor de veelbelovende 51e editie van Pinkpop, waarvoor eerder headliners Metallica, Pearl Jam en Imagine Dragons werden aangekondigd. Er zijn alleen nog tickets voor zaterdag en zondag beschikbaar.
Vrijdag 17 juni zingt Floor Jansen de sterren van de hemel. Naast haar deelname aan het TV-programma 'Beste Zangers' was de Nederlandse zangeres ook al bekend buiten de landsgrenzen als frontvrouw van de Finse metalband Nightwish. Bovendien is ze al jarenlang een begrip in de internationale rock- en metalwereld en is Floor Jansen anno 2022 nog steeds een begrip in eigen land.
Op Pinkpop zondag, 19 juni, reist de Canadese groep Mother Mother af naar Landgraaf. De groep bestaat al zeventien jaar en heeft met hun alternatieve rock een trouwe fanbase opgebouwd in eigen land. Nadat hun liedjes viral gingen op TikTok, wisten zij ook internationaal harten te stelen. Ook nieuw in de line-up en hekkensluiter is het viertal van Dead Poet Society. Na zes jaar lang singles en EP's te hebben uitgebracht, verscheen in maart 2021 eindelijk het debuutalbum. Het album onderstreept de veelzijdigheid van de band. Stuwende poprocksongs, experimentele trekjes, bluesy ondertonen en een krachtige en heldere zang: de band doet het allemaal.
Over Pinkpop
Sinds 1990 staat Pinkpop in het Groot Guiness Book Of Records als het oudste onafgebroken georganiseerde popfestival. De eerste editie vond plaats op 18 mei 1970 in Geleen. Na zeventien edities op die locatie, verplaatste het festival zich eenmalig naar Baarlo, waarna het vanaf 1988 definitief neerstreek op evenemententerrein Megaland in Landgraaf. In 2019 vierde Pinkpop daar haar 50e verjaardag. Na twee jaren geen festival vanwege de Covid-19 pandemie vindt de 51e editie van Pinkpop nu plaats op vrijdag 17, zaterdag 18 en zondag 19 juni 2022. 
Bevestigd tot nu toe:
Vrijdag 17 juni

: Metallica, Twenty One Pilots, Nightwish, Nothing But Thieves, Greta Van Fleet, Danny Vera, IDLES, Parcels, Floor Jansen, Froukje, MY BABY, Blaudzun, Antoon, Sylvie Kreusch, WIES, grandson, Smash Into Pieces, JC Stewart, Ten Times A Million, Elle Hollis
Zaterdag 18 juni

: Pearl Jam, Royal Blood, Måneskin, Deftones, KALEO, Chef'Special, Lost Frequencies Live, Crowded House, Ronnie Flex & The Fam, Selah Sue, Tones And I, Courtney Barnett, Frank Carter & The Rattlesnakes, Son Mieux, Mimi Webb, Nona, The Last Internationale, KennyHoopla, Saint PHNX, Remme, Ramkot
Zondag 19 juni

: Imagine Dragons, Volbeat, Nile Rodgers & Chic, Dermot Kennedy, De Staat, Zara Larsson, Ziggy Marley: A Live Tribute To His Father, Eefje De Visser, Interpol, Maan, Turnstile, Inhaler, Mother Mother, Joost, Navarone, Rare Americans, Sea Girls, MEAU, Hang Youth, Dead Poet Society, W.H. Lung