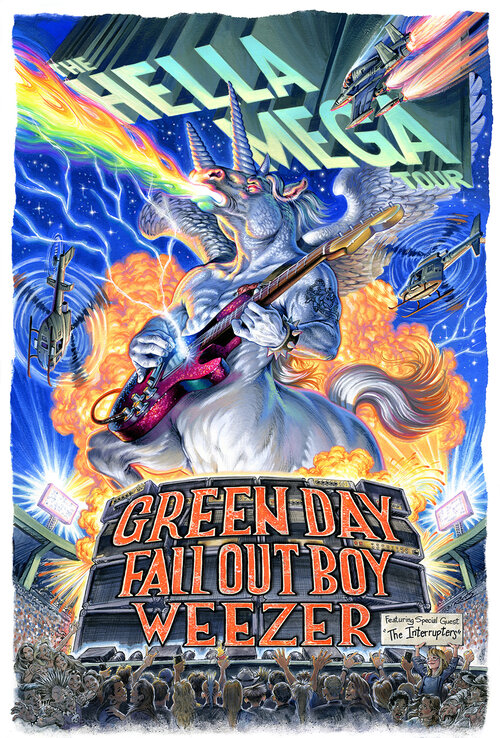 Green Day – Fall Out Boy – Weezer – Amyl and the Sniffers
LET OP: NIEUWE DATUM
WOENSDAG 23 JUNI 2021
STADSPARK, GRONINGEN
De wereldwijde Hella Mega Tour begint op 13 juni 2020 in Parijs en zal de hele maand juni langs acht steden in Europa en het Verenigd Koninkrijk trekken. Het Noord-Amerikaanse deel van de tour, die 20 steden aandoet en vanaf 17 juli 2020 losgaat, brengt de bands naar enkele van de meest gerenommeerde stadions, waaronder Dodger Stadium, Wrigley Field, Citi Field en Fenway Park.

Ter ere van deze aankondiging brengen alle drie de artiesten vandaag ook elk een nieuwe single uit. Deze singles zijn op hun beurt weer voorproefjes van gloednieuwe albums die er aan komen. Alle drie de singles zijn nu beschikbaar en de respectievelijke albums kunnen vanaf nu worden ge-pre-ordered.

Grammy Award-winnende punkrockband Green Day primeurt vandaag hun gloednieuwe single "Father Of All …". Het is de eerste single van hun gelijknamige dertiende studioalbum dat op 7 februari 2020 uitkomt.
Green Day, opgericht in 1986 in Berkeley, California, is een van 's werelds best verkopende bands aller tijden, met meer dan 70 miljoen platen wereldwijd verkocht en 10 miljard cumulatieve audio / visuele streams. Hun doorbraakalbum Dookie uit 1994, dat meer dan 10 miljoen exemplaren verkocht en de diamanten-status bereikte, wordt alom gerespecteerd als hét album dat destijds de populariteit van punkrock weer nieuw leven heeft ingeblazen.
In 2004 bracht Green Day de rockopera American Idiot uit, die alleen al in de VS meer dan 7 miljoen exemplaren verkocht en een Grammy Award voor Best Rock Album ontving.
In 2010 debuteerde een theaterbewerking van American Idiot op Broadway en nu staat Green Day opnieuw op het wereldtoneel met hun nieuwe album en de wereldwijde Hella Mega Tour.

Fall Out Boy's nieuwe single "Dear Future Self (Hands Up)" ft. Wyclef Jean verschijnt op hun aankomende album Greatest Hits: Believers Never Die – Volume Two, dat vanaf 15 november beschikbaar is. Het is de eerste nieuwe muziek van de band sinds de release van de Lake Effect Kid EP uit augustus 2018; een liefdesbrief aan hun geboortestad Chicago. In januari deed Fall Out Boy nog mee op het nummer "I've Been Waiting", een samenwerking van Lil Peep en iLoveMakonnen.
Het zevende studioalbum van Fall Out Boy, M A N I A, kwam in januari 2018 op nummer 1 binnen in de Billboard 200 en kreeg een Grammy-nominatie voor Best Rock Album.

De nieuwe single van Weezer, "The End of the Game", geproduceerd door Suzy Shinn, komt van het komende 14e studioalbum, getiteld Van Weezer, dat in mei 2020 uitkomt. De inspiratie voor dit album is afgeleid uit de diepste wortels van Weezer – metal! In zijn vroege jaren was frontman Rivers een enorme KISS-fan; Brian was een grote fan van Black Sabbath; Pat aanbad Van Halen en Rush, terwijl Scott dol was op Slayer en Metallica. De laatste keer dat deze voorliefde voor hardere rock geuit werd door Weezer was op hun geliefde album uit 2002, Maladroit.