 Volk-Man (bass): "Writing an album without the opportunity of your regular tour cycle makes it hard to get the motivation. The belief in the album and the belief in the band kept us alive somehow and nowadays I think and I hope we are done with most of the pandemic topics in this year"
Wanneer je meer dan een kwart eeuw in een band speelt, dan ben je voor geen kleintje vervaard. Toch was de voorbije twee jaar ook allesbehalve gemakkelijk voor Die Apokalyptischen Reiter. Gebonden aan het thuisfront werd er toch nog een tandje bij gestoken wat betreft creatief en innovatief zijn, zodat we amper een jaar na de improvisatie 'The Divine Horsemen' ook het nieuwe reguliere album van de Duitse band met de welluidende naam kunnen verwelkomen. Reken op een plaat die een schreeuw voor vrijheid ambieert, na de isolatie in het coronatijdperk. Over 'Wilde Kinder' weet bassist Volk-Man dan ook heel wat te vertellen.
Vera Matthijssens Ι 26 april 2022

How are you doing?
Currently I am quite busy, because we have a lot of plans for the new album, preparing the tour and doing promotion and we are currently setting up the next video that is coming out in two weeks. Much to do…
I saw that you just went to South France, Ardèche, for a video… nice environment…
Ah this one is currently edited by ourselves and it is going to be released I think together with the album release in April or in May (for the song 'Leinen Los' – Vera). Currently we have released two videos from the new album and two more are coming before the album is released. These days everybody enjoys watching video clips on their mobile phones, so we did much more videos than in the past for the new album. I think it is a good way to promote your music and your band name these days, because the channels of distribution have changed a lot in the last ten years. Early March we have programmed the third video and the fourth one is coming together with the album release. Everything has to be scheduled on a very detailed schedule plan. Sometimes it is a bit stressful to keep all these dates in a row and all the deadlines in mind.
Indeed, I totally agree. I watch more things on a screen lately…
Yes, the society has changed and the habitats of the people. They are more focused on everything that is happening on a desk and on a screen. No matter if it is a computer screen or a television screen or a mobile phone screen, everything on that screen has somehow become a second reality and for some people also much more than second reality. It is the only world they are living in. It is tough to find a good balance between our normal interest – being a musician, being on a stage, you know – and that on line contact. These days you are becoming more and more like a content creator. Every moment of your daily life you can show on your Instagram or Facebook or YouTube, so you need to decide what you want to show from the band to everybody, to the people.
Before we are going to dive into the new album, I would like to have a chat about your experiment for the 25th anniversary of the band 'The Divine Horsemen'. That was a remarkable improvisation, a document of that time so to speak. How do you look back on this now?
It was a very unique experience, because we had this in mind for over ten years, but because of all the constant touring, doing records and going on tour again, it was never a real option, because we were too much into the projects we did. Then of course every band had their own strategy in the moment that you realize that your previous touring life is gone for a long time. We started thinking about how to make something that has a value to us and a value to the fans, because we had in mind to do an anniversary birthday festival with a lot of fans and then we had to delay it again and again and again and in the end we were not allowed to perform on our anniversary gig. We thought: let us make a birthday present to is and to the fans, that they will never forget. Then we came up with the idea of doing this improvisation. This was an experiment, because nobody had really a clue how it would work or not. We just did it and recorded like 500 minutes of music. In the end it turned out way much better than we expected. We felt from the second day that it was worth to release this stuff. From the artist perspective, it was probably the most challenging thing we did in the last years, because everything was really free. It was a complete thing out of the stomach. Nothing was pre-constructed in the head. It reminded us a lot of the early days when we started the band, because we just met in the rehearsal room, had some beers and started making some noise without any structures, without any ideas to progress a song or to develop a song. We just recorded music and afterwards we checked the tapes and we figured out what was great. It had some vibes from the very early days of the band.
And the fact that you will never reproduce it on stage makes it a very unique document…
Yes, it would definitely be much more challenging to try to reproduce this kind of sound. Everything came in the second you played it. If I now would be sitting here and reconstruct a ten minutes song without any verse, chorus or structure, it would be really difficult. We already got some requests from fans: 'why don't you play these songs live? It would be awesome', but we said from the beginning: it is just meant to be on an album, because you have to have the right sound, the right atmosphere, the right mood. We see the whole amount of songs like a big circle and you cannot take just one song out and play that song. It would not have the same vibes as when you listen to that cycle of songs from the beginning to the end. It should create a special mood with the listener. Only in that mood I think you are able a bit what is going on, because there is not only a musical level, there is also an emotional level when you try to let your mind go from the tiny things you have all the time. Just jump into the sound, just jump into the music. Forget about your daily problems and your daily life for one hour, just to try to feel the vibration of this kind of tunes.
Yet the new album 'Wilde Kinder' already comes one year later and somewhere else I read that you have been working on it for three years. So that means you were already writing and working on the new album when you did this experiment, isn't it?
You are absolutely right. We started writing after the last tour for the previous album 'Der Rote Reiter'. So there were already a bunch of songs. Normally there would be a total different time schedule, because the pandemic… of course it was not planned for anyone… prevented us from follow the plan. The drums for 'Wilde Kinder' were already recorded in August 2021. Then we realized that it would not make any sense to push ourselves finishing the album, because we already knew and saw the situation. A lot of bands delayed their albums or postponed the release date, the tours were not possible. So actually there was not a pressure for us to finish the album. So we made a little detour, we did this improvisation 'The Divine Horsemen' and when we finished this one, we returned to finish the new album.
More than ever the cry for freedom and anarchy resounds. Do you agree with that?
Absolutely. These days I think the demand for freedom in many ways is way much more present. I think many people realized these days, when the freedom has gone in some way, it is much more than just a word. Because now we know what it means, not to be free. I mean, it was not like a jail, but in the end many people are forced to stay at home, they could not do what they usually did, so of course it was a big influence during the last months of song writing, that you had a big demand for developing this ideas, especially in the lyrics there are a lot of topics that deal with freedom and the society.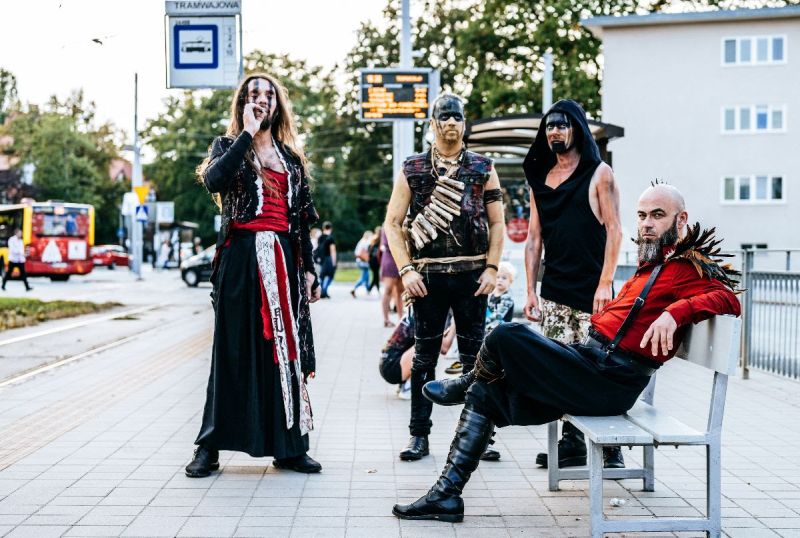 Culture and music were amongst the hard hit segments of society, because going to concerts and music is a social thing…
Yes. In the end nobody asked before the pandemic how everything is working. It was normal you announced a show. You sell the tickets, the people come, the people go home, everybody is happy. Now you realize that the whole business you are in is a very fragile business, because you are so much relating on the possibility of people, that they are allowed to go to a concert that day. It is not only a thing that they are allowed to go or not, because people now, after two years staying at home, they now are used to stay at home. I don't think, when everything is gone with the pandemic, that it will come so soon that people really continue their previous lives, because they put a lot of money in their houses, in their home cinema, in everything and they are used to be at home. And people enjoy what they do, so now they need to go out again and that is again a big change. So I have some doubts if it comes back in a second. Of course it will grow again, but I don't expect an explosion.
You make a difference, because most of the people expect a big bang…
Hopefully. The problem is: many people are looking for a change, of course, but so many people are scared in so many ways. I know a lot of people saying 'I don't know if I would go to a band in a venue packed with thousand people'. Everybody is standing so close and sweating and staying for hours in such a room, I am not really sure.' It is a different situation if they go to an open air festival. This is much more spacey and normally you have good air, but in those small venues where everybody is wet from the heat inside, this will probably be the biggest challenge I see for every band who is touring, because this open air season is just one or two months. The majority of the shows have to be played in small or bigger clubs, you know. I only can speak for Germany. At the moment we still have very strict regulations and there are limitations about 30 or 40% of the capacity that are allowed to go to a venue. That means when the costs are still the same for the clubs and for the band, there is no sense in doing that. We have to see how this will develop in the next months, because this is the game changing question. If after the Summer, the whole rock-'n-roll circus can maybe return to a much more normal situation or the limitations will continue, because many bands are totally dependent on the chance that they can sell out a club.
I miss your keyboard player Dr. Pest and I found out that he is taking a break. So can you tell something more about that?
Yes, it started after touring for 'Der Rote Reiter'. He said to us he was out of power and he did not want to join us for rehearsing and for composing new stuff. We did not take him out of the band. He said he is a bit tired and he needs some time to rest. Thus this album is composed with four guys. He just played some stuff in the studio, but not that much. Most of the creative work was done by Fuchs and Sir G (drummer – Vera) and Adrian (guitarist – Vera) who took over the keyboard composing stuff from Dr. Pest, because these are excellent keyboard players as well. So it was not really a loss during the process of composing. We have to see how this will go on. At the moment we have the official statement on the web page he is taking a break, but who knows what will happen on the next album or during the next touring cycle. I mean, we are together for so long and we meet each other, so there are no hard feelings. Of course we have accepted that at this moment he needs a break and we will respect this.
One of the special songs is 'Euer Gott Ist Der Tod'. It is the longest track and there is a long going on…
Yes, it is a very epic and very extreme song. It is a song about death and the night. They are united in that song. I think we took some elements from the past, very heavy and fast forward stuff. It was definitely a big challenge to place that song, because we wanted to find a good position for the song, because it is really a very strong, important song for this album. If you think in vinyl dimensions, this is the first track of the B side, so it is always special. It deals with a dramatic situation, so we found out that this one would fit perfectly to the situation, because it opens the second half of the record. We are very pleased with the result. We asked the former singer of Deadlock, Sabine Scherer, to join us for a female appearance, so this was also something very nice. She hasn't been singing in any band for many years, since she quit the appearance in Deadlock.
I was also glad with the return of more harsh vocals and even black metal influences…
Yes, we have many, many vocal lines, double vocal lines, even if it is normal singing in the front, you hear some screaming in the back. With a title as 'Wilde Kinder' we wanted to create some wild stuff. It is normal that you cannot sing only in calm mood.
The cover art and the video for 'Wilde Kinder' even look a bit creepy, even devilish…
Well, it is always challenging to find an artwork, especially after so many years when you met a lot of artists and did a lot of artwork yourself. So many different styles. In the end it was an idea from our previous video editor who came up with this idea, especially in the title track. There is a line and the translation is: I burned down the cage. There is also a special edition of this CD with a special artbook and in the artbook there is a very long story about the girl on the front cover. A story about her leaving home. It is a good connection to the story. Then you understand maybe much better the meaning of the artwork. Everything is a bit tied together.
We have this quote on the info sheet: 'This album was a struggle. Against comfort. Against indifference. Against advancing madness. Against ourselves. We won it!' Maybe you can formulate your feelings about this thought to round off…
Well, we talked about this struggle with ourselves. We talked about the struggle in the line-up. This was definitely an important point, because only on the very first albums we acted like a quartet. So it was the first time we returned to that working style. Then of course we saw the whole world and society around us collapse during the last two years. Writing an album without the opportunity of your regular tour cycle makes it hard to get the motivation. You feel the frustration about so many things that are not possible anymore. Just nevertheless, in despite of these problems, to keep the faith in the band alive and to realize that the fans out there, they are still giving you so much support, they hope that you don't give up and that you bring some light in their lives, you know. That was a big challenge. I think the whole thing of the last two years was definitely a struggle. The belief in the album and the belief in the band kept us alive somehow and nowadays I think and I hope we are done with most of the pandemic topics in this year. Having now the album makes us very proud and we hope we can give a little bit of our energy to the fans with this album, because I think the topics that we are talking about, they couldn't be much more close to the actual situation in our society. I think it is the most personal thing we have ever done.
I am sure with 'Volle Kraft' you can do that!
Thank you for your time and let us hope that we can meet in person in future again.