DELAIN Plays 'Apocalypse & Chill' Record-Release Show In Utrecht, The Netherlands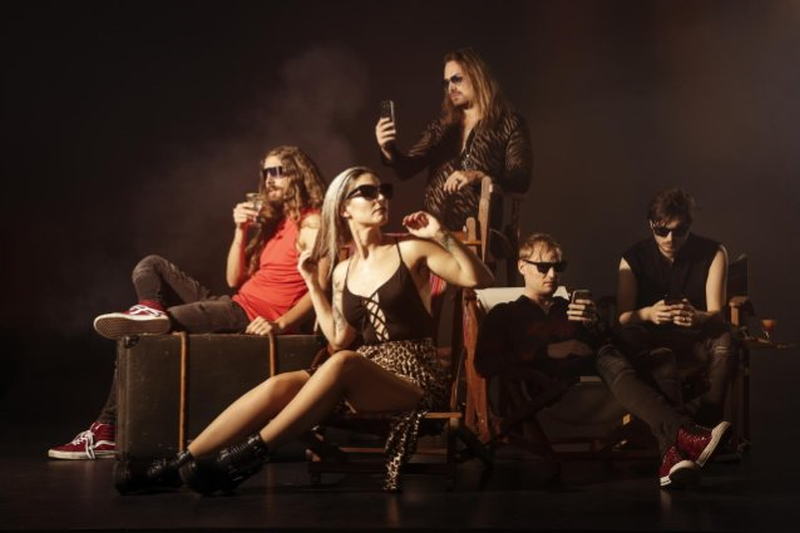 DELAIN Plays 'Apocalypse & Chill' Record-Release Show In Utrecht, The Netherlands
Dutch symphonic metallers DELAIN played a record-release concert for their sixth full-length studio album, "Apocalypse & Chill", last night (Friday, February 14) at Tivoli Vredenburg in Utrecht, The Netherlands.
The band's setlist was as follows:
01. Intro
02. Burning Bridges
03. Creatures
04. The Glory and the Scum
05. Suckerpunch
06. The Hurricane
07. April Rain
08. Masters of Destiny
09. Let's Dance
10. One Second
11. Ghost House Heart (with Elianne Anemaat)
12. Vengeance (with Yannis Papadopoulos)
13. Combustion
14. The Monarch
15. Hands of Gold (with George Oosthoek)
16. Not Enough (with Elianne Anemaat)
17. Don't Let Go
18. The Gathering
19. Fire with Fire
20. Pristine (with George Oosthoek and Elianne Anemaat)
21. We Had Everything
22. We Are the Others
23. The Monarch (Outro)
Fan-filmed video footage can be seen below.
"Apocalypse & Chill" was released on February 7. According to a press release, the disc "explores topics of impending doom and human indifference," making DELAIN's "their boldest, most daring and undeniable offering yet. Brutal riffs, synth-heavy patterns and fully orchestrated compositions accented by vocalist Charlotte Wessels's extraordinary vocal potency will enthrall the listener, while new influences may surprise. The broad soundscape on 'Apocalypse & Chill' ranges from anthemic rock to electronic metal and breaks all stereotypes, without losing the special DELAIN trademarks."
Full show:
Vengeance (with Yannis Papadopoulos):
The Gathering:
We Had Everything:
We Are The Others:
Burning Bridges:
Let's Dance:
Ghost House Heart:
One Second:
Masters Of Destiny:
Not Enough:
Hurricane:
April Rain:
DELAIN's latest release was "Hunter's Moon", which came out in February 2019 via Napalm Records. The effort consisted of new studio tracks accompanied by a live Blu-ray from the group's sold-out "Danse Macabre" 2017 European tour.
Guitarist Merel Bechtold left DELAIN in June 2019 to focus on different musical ambitions. Her final performance with DELAIN took place on June 23, 2019 at the Graspop Metal Meeting in Dessel, Belgium.
DELAIN is:
Martijn Westerholt – Keyboards
Charlotte Wessels – Vocals
Joey Marin de Boer – Drums
Otto Schimmelpenninck van der Oije – Bass
Timo Somers – Guitar Check de onderstaande socials voor meer informatie over deze band.