COMPLEXITY FEST ADDS 6 NEW BANDS TO THE LINE-UP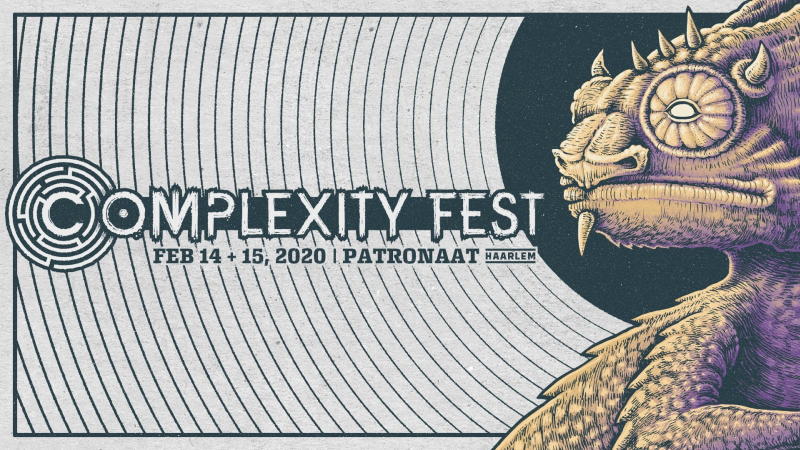 COMPLEXITY FEST ADDS 6 NEW BANDS TO THE LINE-UP
Including two sets by And So I Watch You From Afar, Raketkanon's farewell show and more
Complexity Fest adds 6 new bands from a multitude of different genres, including two sets by And So I Watch You From Afar, Raketkanon's farewell show, the amazing Japanese band GOAT, Otoboke Beaver, NI (one part of last year's sensation PiNiol) and STUFF.
On February 15th and with a pre-party the 14th, marks the fifth time that Complexity hits Patronaat – and we will do it in proper fashion. The regular ticket sale has started now.

The festival states:
"The instrumental post-rock band AND SO I WATCH YOU FROM AFAR will play an exclusive headliner performance on Complexity Fest 2020 consisting of two sets: a 'Jettison' ensemble show and a set that takes you through their whole 10-year spanning career. The 'Jettison' show is an unconventional audiovisual experience with a single piece of music commemorating the advent of the second decade as a band, accompanied by a string quartet and set to an incredible video backdrop made by visual artist San Wiehl. The second part you can consider is their "normal" show, taking you through all kinds of phases of their rich career. A must-see to experience for every post-rock fan!
Belgium's secret sonic weapon RAKETKANON will roam Europe one last time. After ten years of mass destruction this project comes to an end. Bespoken in their own language – one of throttled squeals and shouts, meat-grinder waves of rolling riffs, synth-layered soundscapes, dystopian electronica-laced beats, and hypnotic grooves – the band proved with every album that they were utterly unique in their field.
STUFF. is a 5 piece live band that brings a cross-genre groove, spanning from broken hiphop to more electronic and jazz influenced future funk. It sounds extraterrestrial and extremely catchy. Definitely one of the odd one outs during this year's Complexity Fest, but at the same time one of the most exciting acts that will hit heavy for sure.
Called after one of Kyoto's 'love hotels', this Japanese "girls 'knock out or pound cake' band" OTOBOKE BEAVER is one of the hottest bands around since their destructive show at this years SXSW. Their dangerously aggressive and energetic garage punk got introduced to Dutch audiences at most recent Lowlands Festival. As one of the most stunning acts during those four days, we're happy to welcome back in The Netherlands!
GOAT create music unlike many other rock bands. In their percussive tracks, the Japanese jazz rock band mute melodic instruments to reinforce the beat, and make frequent use of harmonics played outside the twelve-tone. After going through a reshape in early 2017 with a new lineup, they have moved on to build compositions that explore rhythmic aspect even further, centering more on intertwining patterns of repetitive rhythms.
Many of you will know NI as part of the seven-headed polyrhythmic music hydra PiNiol that left many in awe at last years Complexity Fest. NI invites all those who love frantic riffing to a huge party that celebrate the sweet barbarism of burning the waltz, the 4/4 time signature and verse/chorus structure at the stake. Alive! Come and meet one of the most fascinating instrumental bands from the French and European noise rock scene.
The aforementioned 7 bands join DRAGGED INTO SUNLIGHT, THANK YOU SCIENTIST, HEROD,OUR OCEANS, PIJN and VASA".
The remaining names will be announced in December. All practical information and the names for the pre-party will follow in the last two months leading up to the festival".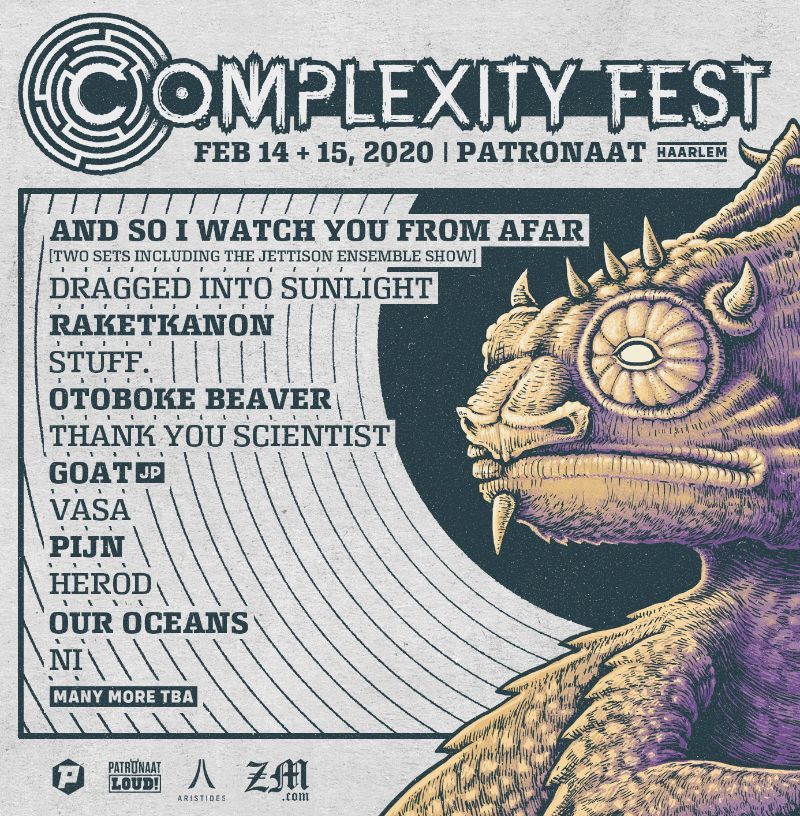 Check de onderstaande socials voor meer informatie over deze band.