COBRA SPELL releases new single + official video, "Flaming Heart"
band presents its renewed line-up in the single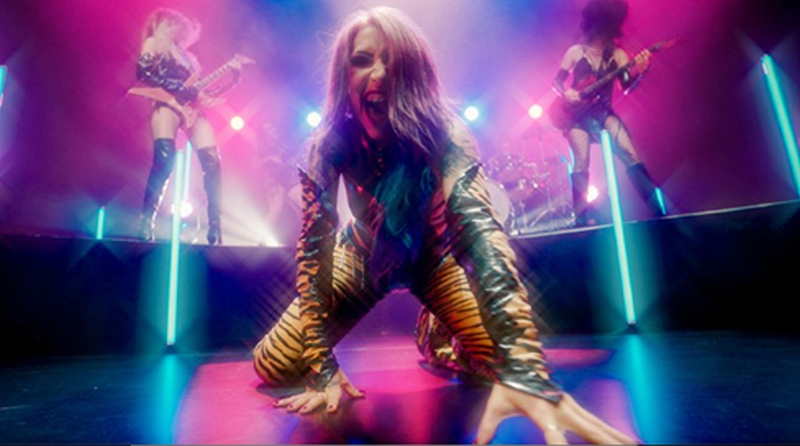 All-female Heavy Rock vixens COBRA SPELL have unified all of their forces to unveil a brand new single "Flaming Heart". The song is bringing back the 80s in the most epic form.
Watch "Flaming Heart" below.
Founded by the up-and-coming guitar phenomenon Sonia Anubis (Ex-CRYPTA, Ex-BURNING WITCHES). COBRA SPELL is slithering its way into the revival era of the 80's Glam and Heavy Metal sound. The international sleaze quintet is completed with Kristina Vega on vocals, Sonia Anubis on Lead Guitar, Angelina Vehera on Bass, Noelle dos Anjos on Rhythm Guitar and Jess on Drums.Sonia Anubis comments:
"This song speaks about a feeling that I consider essential in life. It keeps us going no matter how rough life gets. And it's passion. Without passion, I don't know what the meaning of life would be and how lost I would probably be. With 'Flaming Heart', I want to celebrate the existence of this wonderful feeling and the power it can have. And I want to encourage you to follow your own passion and to listen to your heart, let that burning desire guide you." 
Earlier this year, the band parted ways with guitarist Esmée van Sinderen and drummer Leonard Cakolli. 
CREDITS
Music by Sonia Anubis.
Produced by Alejandro Gabasa Barcoj and Sonia Anubis. Mixed and mastered by Alejandro Gabasa Barcoj. 
COBRA SPELL is:
Kristina Vega – Vocals
Sonia Anubis – Lead guitar
Angelina Vehera – Bass
Noelle dos Anjos – Rhythm guitar
Jess – Drums