BAEST release second single "Meathook Massacre" Danish Death-Metal band BAEST release "Meathook Massacre" the second single of their upcoming album release "Necro Sapiens" (March 5th) accompanied by a live performance video recorded in their studio.
Watch "Meathook Massacre" below.
The band comments:
"The video for Meathook Massacre is from the recording process of the Necro Sapiens album. The whole album was recorded live, every one of us tracking simultaneously – and the observant listener is able to spot some tracks, that made it to the final cut as well! (Disclaimer: the lights weren't as cool for the whole recording, sadly…)"
"In his den of violence, a specialist in pain and suffering resides. A torture mercenary, who lives to see the everflowing stream of malicious desires of the elite, satisfied. We welcome you, to his Meathook Massacre."
Stream the previously released single "Abattoir" below.
The band comments:
"Necro Sapiens is ultimately the most BAEST-sounding record. The influences are there, but this is by far the record, where we sound the most like ourselves. The best BAEST there is!"
About "Abattoir":
"Far from earth and out of reach, The Abbatoir lays the foundation of the necro sapiens enslaved existence. A nocturnal breed inhabits this parliament, who has one goal in sight; misanthropic and totalitarian domination."
Tracklist:
1. The Forge
2. Genesis
3. Necro Sapiens
4. Czar
5. Abattoir
6. Goregasm
7. Towers of Suffocation
8. Purification Through Mutilation
9. Meathook Massacre
10. Sea of Vomit
The album is available in the following formats and can be pre – ordered AT THIS LOCATION! 

CD Digipak – all outlets
Black LP+CD – all outlets
Digital Album – all platforms
Glow in the dark LP+CD (limited to 500) – Official Band Shop
Pink LP+CD (limited to 100) – CM Distro
Olive Green LP+CD (limited to 300) – CM Distro
Lilac LP+CD (limited to 200) – Metalvinyl.dk
Deep Blood Red LP + CD (limited to 200) – all Danish outlets
BAEST as Support of  Philip H. Anselmo & The Illegals
7/24/2021 St. Petersburg A2 green concert (RU)
7/25/2021 Moscow, Adrenaline Stadium (RU)
7/29/2021 Tolmin  Metal Days (SL)
7/30/2021 Saint maurice de gourdans, Sylak Festival (FR)
7/31/2021 Utrecht, Tivoli (NL)
8/1/2021 Oberhausen, Turbinenhalle (DE)
8/4/2021 Budapest, Barba Negra (HU)
8/5/2021 Belgrade, Beogradski Sajam (SRB)
8/6/2021 Sofia, Yunak (BG)
8/7/2021 Brasov Rockstad Extreme Fest (RO)
8/9/2021 Vienna, Simm City (AT)
8/10/2021 Krakau, Studio (PL)
8/11/2021 Jaromer, Brutal Assault Festival (CZ)
8/13/2021 Derbyshire, Bloodstock Festival (UK)
8/14/2021 Kortrijk Alcatraz Festival (BE)
Necro Sapiens Tour Dates:
25.02 SE Malmo, Plan B*
26.02 SE Gothenburg, Valand*
27.02 SE Stockholm, Slaktkyrkan*
04.03 DK Aalborg, Skråen
05.03 DK Turbinen, Randers
06.03 DK Horsens, Horsens Ny Teater
12.03 DK Holbæk, Elværket
13.03 DK Kongens Lyngby, Templet
18.03 DK Herning, Fermaten
19.03 DK Roskilde, Gimle
20.03 DK Sønderborg, Sønderborghus
25.03 DK Silkeborg, Kedelhuset
26.03 DK Esbjerg, Tobakken
27.03 DK Odense, Posten
01.04 DK Copenhagen, Pumpehuset – Sold out
02.04 DK Copenhagen, Pumpehuset – Few Tickets
03.04 DK Aarhus, Train
07.04 DE Hamburg, Headcrash
08.04 NL Haarlem, Patronaat
09.04 NL Leeuwarden, Neushoorn
10.04 NL Nijmegen, Merleyn
11.04 BE Hasselt, MOD
12.04 UK London, The Black Heart
13.04 UK Manchester, Satan's Hollow
14.04 UK Glasgow, Audio
18.04 BE Roeselare, De Verlichte Geest
21.04 DE Wiesbaden, Kesselhaus
24.04 DE Munich, Feierwerk
25.04 AT Vienna, Escape
29.04 CZ Ostrava, Barrak Music Club
30.04 CZ Prague, Orthodox Club
04.05 DE Leipzig, Naumanns
05.05 DE Berlin, MuF
07.05 DE Hannover, Lux
08.05 DE Köln, MTC
04.06 PL Mystic Festival
29.07 SL Metal Days
06.08 BG Sofia, Unak
12.08 CZ Brutal Assault Festival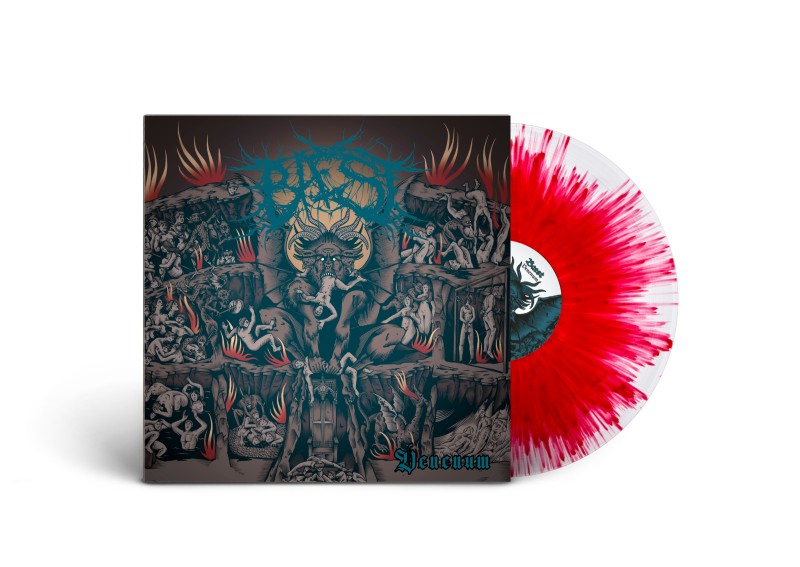 Check de onderstaande socials voor meer informatie over deze band.