 Esa Holopainen: "Queen Of Time' was arranged very big, there was constantly something orchestral going on there, but on 'Halo' we have songs that are more heavy, more stripped down, as well as we have huge sounding songs."
Meer dan dertig jaar geleden was Amorphis één van de eerste melodieuze death metal bands die Finland op de metal map zetten. Voor het eerst maakten we kennis met hun thematiek over het nationale epos de Kalevala en hun sprankelende mix van ruwe death metal met zachtere, folkloristische invloeden. Nog steeds is Amorphis een bijzonder populaire band met fans over heel de wereld en een authentieke sound. Begin februari bracht Atomic Fire Records hun 14e studioalbum 'Halo' uit en daarover keuvelden we gezellig met zanger Tomi Joutsen en gitarist Esa Holopainen.
Vera Matthijssens Ι 11 februari 2022

Tomi, another three years have gone by since we talked for previous album 'Queen Of Time'. What happened after that release?
Tomi: As usual we toured a lot for that album and after the last tour, with Dimmu Borgir, we started to write for a new album. We also had plans to celebrate the thirtieth anniversary of the band, but then corona hit and we had to stop all the shows. We decided to concentrate on the new album. We played a show a couple of weeks ago in Finland and it was the last show for this year. I counted them. It was the ninth show of the whole year, so it has been crazy. Normally the average I think is around a hundred shows in a year, but this year and also in 2020 I think we did about ten shows. But we haven't been lazy, because the whole band has been quite busy with the new album, we tried to do shows in Finland and we tried to survive as a band.
What can you tell about the writing process itself? What inspired you? Which mood were you in?
Tomi: The original plan was pretty much the same as for the previous album 'Queen Of Time'. We had scheduled that we practised the songs whenever we composed songs and then we went to Sweden and recorded the album with Jens Bogren, but when this corona thing happened, that changed a lot. The guys composed music at their home studios and they sent all the ideas to each member of the band and then we had a meeting and played it and recorded it. We sent the demos to Jens and he picked out the most interesting songs. For those songs we did a proper preproduction and actually Esa (Holopainen – guitars – Vera) was the only person who went to Jens in Sweden. All the other members worked at home. It was weird, because normally Jens follows our recording process intensively from the start, to make sure that everything is 100% right, I think it was a challenge for him too as a producer. Now he got different recordings from all the members and it was a puzzle. For example Santeri (Kallio – keyboards – Vera), he played loads of stuff, like organs and keyboards and so many things and on the final album, there is not that much keyboards. I think that was Jens' idea. I recorded everything in Helsinki with Jonas Olsson, he did some preproduction for the previous album and when we realized that we could not go to Jens in Sweden, we did the preproduction in Helsinki for my vocals. We have known Jonas and Jens for many years, so it is easy to work together. I don't live in Helsinki, but in a place a bit north from the capital, Lohja, it is not a long drive. I have been there thirty times or something like that for this album, but at the same time I was really happy that I did not have to travel to Sweden, in the end of the day it is quite terrifying in times like this. It was a new way of working, but I think we adapted pretty well to the situation.
Esa, it seems that you had a lot of inspiration, because you had thirty songs and producer Jens Bogren had to make a selection of it. What can we imagine by that? Were they really songs or fragments and ideas?
Esa: Yeah I guess that's also because we had more time on our hands without touring, people get inspired when hectic life slows down. We got quite a lot songs, I think four guys in the band who wrote the songs and we ended up having around thirty rough demos and it was another rough job for Jens as well to start picking out the songs for the album. I think he did a great job and he is a great guy, you know. He always sees the bigger picture in the songs and comes out with absolutely great results.
The new album 'Halo' happens to be the third part of a trilogy that started with 'Under The Red Cloud' (2015) and continued with 'Queen Of Time' (2018). How should we interpret that?
Esa: At least now it is a trilogy. Nobody knows… Next album we start to write I don't know we will be working with Jens. Probably we will end up working with Jens again, but who knows? But now it is the third album with exactly the same production team and Valnoir as visual artist for cover artwork. 'Halo' sorts of sums it all up together. It has been a great journey with everyone of us. We got used to know each other so very well, our working ethics and it has become more and more natural to work together on this album. That's what I personally love about working with people, you have these long relationships, you start to know each other and how people work. And I think that's the way when you always have the best results. Working with a new producer or new people, it always takes time to get to know each other and know about the working types and so on.
I think the album starts very convenient with 'Northwards', then people instantly know about the Scandinavian approach and scenery…
Esa: In a way it is true. The sound is quite big and it is a great way to open the album, because it really shows what the album is about. All the elements that 'Northwards' got, it really captures the listener in the sound, figuring out that this is a slightly different album than 'Queen Of Time'.
Tomi: It is a great start of the album, very powerful. It is difficult for me, living in Finland, having an idea what people think of these areas when not living in Finland. I think it is a typical song, mixed vocals, nice guitar melodies, a good opener for the album.
Another title that intrigued me, is 'Seven Roads Come Together'. Can you give a bit insight in that lyric?
Esa: That's quite a big sounding song as well. We have again a lot of the orchestral arrangements on this album, but I think they are melted in songs in .a slightly different way. 'Queen Of Time' was very big, there was constantly something orchestral going on there, but on 'Halo' we have songs that are more heavy, more stripped down, as well as we have huge sounding songs and 'Seven Roads Come Together' is one of those.
Tomi: I think the inspiration for that song came to Pekka when he was in Iceland. I am not sure if it was a ritual place or an ancient place, but there were seven roads coming together. I think he took the inspiration for lyrics from that place. I still remember that he told me that he had an amazing feeling entering that place, thinking how it feels to be connected with ancient forces.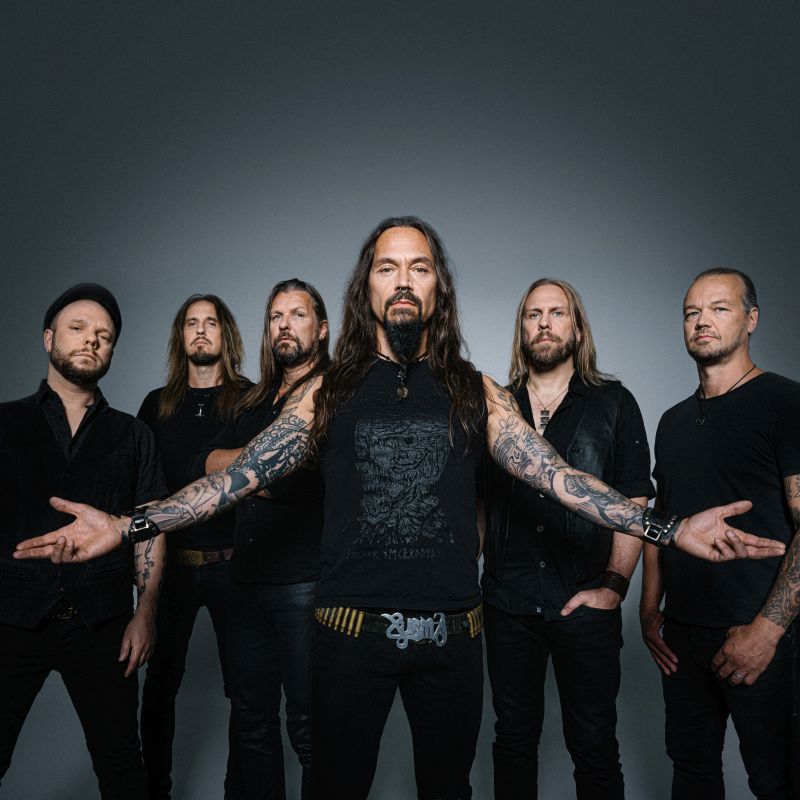 Since ages there is Pekka Kainulainen who is writing the lyrics. Does he still explain songs to you or is it more a feeling of trust over the years?
Esa: He doesn't explain that much. Usually Tomi is talking with Pekka about the lyrics. He gives some ideas about the concept or some stories that he is going to write. Usually what happens is that we start to make music and Tomi tells to Pekka: 'Okay the band is now writing new music, we will have a new album. Do you have any texts or any ideas for lyrics?' and then Pekka starts to work with his lyrics. We work very separately and we never really see what he is writing. Obviously Tomi is going to get the lyrics and the ideas from Pekka, but the song-writers really don't know that much from what Pekka's writing about. But it is always a great match. Tomi is a great guy in finding the perfect lyrical themes or lyrics to the right songs.
Tomi: For me personally I realize that he has a free hand on this thing, that is inspiring for him also. He reads a lot about myths and legends and the Kalevala, that is his source of inspiration. There is old stuff in there as well, I had a problem with one lyric about a horse for the song 'The Moon'.. A heavy metal band and a horse? (laughs) It is kind of weird.

This part of the job also needs profound concentration…
Esa: Absolutely. It is a long process to make the lyrics and the vocals as they are going to be on the album. There is so much work. Pekka is writing the lyrics and then they are translated into English. Tomi starts to arrange the translated lyrics into our songs and a lot of times there are words that are not really rhyming that well, like in music in general. So it is a lot of fixing what comes with the vocal arrangements and vocal editing. It is a long process, but essential. I am really happy with the current lyrics, even though it takes a lot of time, because the lyrics are a huge part of Amorphis and the band. The visual art, the lyrics, the music, these are the main elements that make a great album for me.
In the latter part of the album, more precisely in 'Halo' and the last ballad)like 'My Name Is Night' we hear female vocals. Who is it?
Esa: She is a Swedish singer called Petronella and she is in a band called Paatos. It is a kind of progressive rock band and Jens (Bogren – Vera) knows her very well. When he heard the version from the acoustic song, he already had this idea that this is going to be a duet with Petronella and Tomi and we just heard the final result after he mixed the whole song (chuckles). The song really came out great. It is really beautiful.
Was there a certain reason why you chose the title 'Halo'?
Esa: Halo describes well what the album is about and 'halo' was a great theme for Valnoir to come up with the cover art. The cover art really represents the higher radical contrasts. We ended up with 'Halo' because it shows the best what the album is about. Valnoir is very good in coming up with the colours, colour patterns, as a matter of fact, it is something that is really important for us and before we had anything concrete, we talked about the colour patterns, what it is going to be like and what sort of colours will terminate this album. It is something that we have done with 'Under The Red Cloud', with 'Queen Of Time' and now with 'Halo'. We talk about the colours and where we are heading with them for the artwork. Valnoir's artwork is very symmetric and that's what I really like about it. It is very eye-catchy and everything is 'in order' so to speak (laughs)
It leaps to the eye in the metal scene, because it has a kind of artistic flue you don't see that often here, a sort of detailed crystalized art… and that fits very well with Amorphis, because Amorphis has a harsh part, but Amorphis can also be very smooth and even catchy…
Esa: Yes, I think that is our trademark, very much our style. We like to play with dynamics and Tomi's vocal arrangements are usual that he is going from very harsh, very aggressive to very emotional ranges. Same thing with the music. It is great to have dynamics in the music, for the song-writers it is more inspiring and more motivating.
There will also be a kind of documentary about the making of 'Halo'? How did you come to that idea?
Esa: We have a friend who is a photographer and he got the idea that he wanted to make a real proper documentary about the making of 'Halo' and of the band. We started to work during the song writing process around a year ago. He has been filming quite a lot and he has been so much involved in filming that we don't even recognize it when he presents what he has been filming with his camera. It will be really interesting. He is planning to do a full documentary, an hour and a half long, so…
Will that be available with the record when it is released in February?
Esa: No I don't think so, I think it comes later. There's going to be some clips and some edits definitely before the album release, but the whole full documentary is coming later.
If we compare 'Halo' with the two previous albums, are there things sound-wise you might resume as big differences with the others?
Esa: I was a little bit afraid that this was going to sound pretty much like 'Queen Of Time', because I knew that there were going to be orchestral and choir arrangements again, pretty much the same patterns, but I was very happy that it is not like that. Jens did all the additional arrangements with very good style. The result was surprisingly nice for us. I think that is the thing with Amorphis: we always hope to get some new nuances and sort of break the formula of the previous album and try not to repeat ourselves that much. About the future, it is really hard to tell where we will be heading with the music, but I think there are still plenty of nice surprises to come.