ALESTORM to release new live album & Dvd/Bluray, "Live in Tilburg", on May 28 ALESTORM announce their new live album/DVD/BluRay, Live in Tilburg, out May 28, 2021 via Napalm Records. 
Watch the full live show below. 
Christopher Bowes about Live in Tilburg:
"Oh wow! Live concerts! Remember those? Nah, me neither. Anyway, a  couple of years ago we played a giant show at the 013 in Tilburg, Netherlands. It was a whole lot of fun. We even filmed the whole thing. And when we released the recording for free on YouTube last year, a whole bunch of you said you really liked it. And being the treasure-hungry sellout pirates that we are, it made us realize we could  probably convince a bunch of you to buy it if we wrapped it in plastic and stuck it in a big wooden box. We even added some low-effort bonus features. Enjoy!"
Pre-order 'Live In Tilburg' AT THIS LOCATION. Live in Tilburg Tracklist:
1. Intro
2. Keelhauled
3. Alestorm
4. Magnetic North
5. Mexico
6. Over the Seas
7. The Sunk'n Norwegian
8. No Grave But The Sea
9. Nancy the Tavern Wench
10. Rumpelkombo
11. 1741 (The Battle of Cartagena)
12. Drunken Sailor
13. Hangover
14. Pegleg Potion
15. Bar ünd Imbiss
16. Captain Morgan`s Revenge
17. Shipwrecked
18. Drink
19. Wolves of the Sea
20. Fucked with an Anchor
 
Live In Tilburg will be available in the following formats:
– Deluxe Wooden Box: Mediabook, 7″ Single (2 Acoustic Cover Songs), Lanyard + Pass, ALESTORM Flag
– 2-LP Gatefold (Mint) + DVD
– 2-LP Gatefold (Yellow) + DVD, Slipmat & Patch
– 2-LP Gatefold Vinyl (Black) + DVD
– BluRay/DVD/CD Mediabook
– Digital Album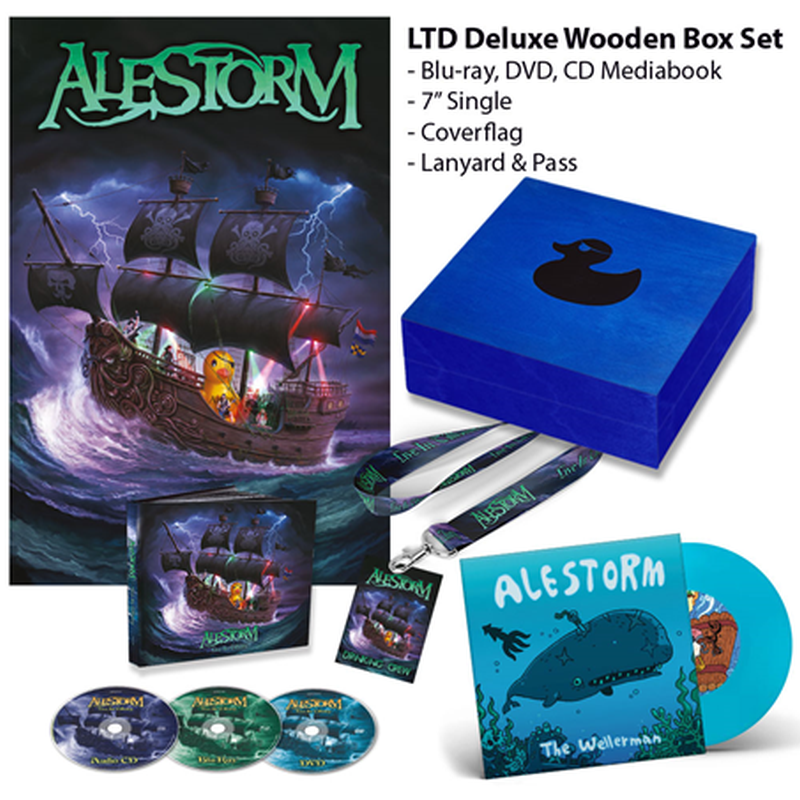 ALESTORM are:
Christopher Bowes – vocals, keytar
Gareth Murdock – bass
Mate Bodor – guitar
Peter Alcorn – drums
Elliot Vernon – keyboard Check de onderstaande socials voor meer informatie over deze band.