WACKEN OPEN AIR organizers announce 'Mini' heavy metal festival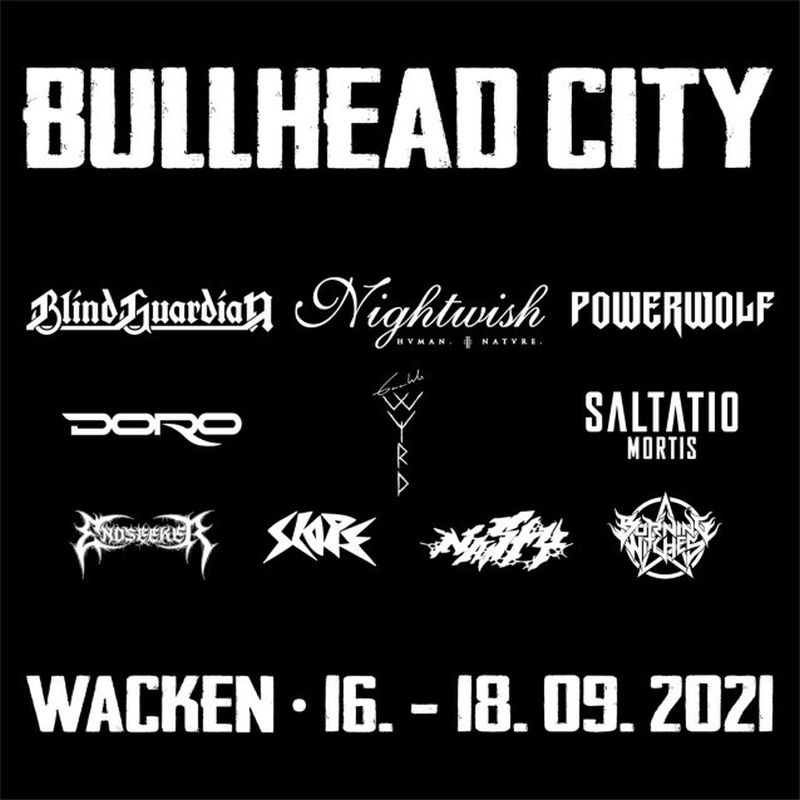 The organizers of the long-running Wacken Open Air festival have announced Bullhead City, a mini edition of the world-famous heavy metal event.
Set to take place September 16-18, 2021 in Wacken, Germany, the festival will feature several stages, including the main stage on the Bullhead City Plaza.
Headlining the event will be NIGHTWISH, BLIND GUARDIAN and POWERWOLF, with additional appearances by DORO, SALTATIO MORTIS, NASTY, GAAHLS WYRD, ENDSEEKER, SLOPE and BURNING WITCHES.
"We can hardly wait to finally party with the fans again – so why wait until the next edition of W:O:A? We, our crew, the bands and the fans are eager with respect to the positive outlook! With Bullhead City we want to offer something to look forward to in another year filled with cancellations", comments Holger Hübner, managing director of WOA Festival GmbH. His partner Thomas Jensen adds: "Special thanks go to the federal state of Schleswig-Holstein whose step-by-step plan has opened real perspectives for events, as well as to all experts advising us – especially the authorities in Schenefeld whose project study offers a lot of recommendations of action for us. This support allows us to plan with respect to the safety of all persons involved and living in the region." 
The public authorities of Schleswig-Holstein, the northern German state home to Wacken, have yet to clarify how many people will be allowed to attend Bullhead City, but the final number is expected to be around 20,000.
At the moment, there are no set Germany-wide rules for major events, with most states enforcing their own participant caps for outdoor festivals, concerts and cultural events which are taking place.
As in other parts of the world, concert halls in Germany were among the first venues to be closed down at the start of the pandemic.
Earlier this month, the promoters of Wacken Open Air announced that due to the ongoing COVID-19 pandemic, the edition planned for the end of July will not be able to take place as scheduled. The 31st edition of the cult festival will therefore take place in August 2022, from August 4 to August 6, in Wacken, Germany.