 Dani Filth: "Despite of the dark nature of the title, I believe it represents hope as well, because it basically says that if this existence is futile, then we better embrace anything within our reach."
Het Engelse black metal instituut Cradle Of Filth heeft sinds 2015 een nieuw elan gevonden. Wat in der haast werd samengesteld als tourband, klikte zo goed dat Dani & co aan een tweede (of derde) jeugd begonnen zijn. De vonken vliegen er terug vanaf. Na 'Hammer Of The Witches' (2015) en 'Cryptoriana – The Seductiveness Of Decay' (2017) is 'Existence Is Futile' het derde studioalbum op rij in deze bezetting en wederom is dit een voltreffer. Traditiegetrouw voelen we daarbij de bezieler van dit alles Dani Filth aan de tand over verleden, heden en toekomst van een band die al meer dan dertig jaar als toonaangevend beschouwd wordt.
Vera Matthijssens Ι 19 oktober 2021

Life has been a rollercoaster last years. When we met for 'Cryptorania' it was a different world. Many things changed, but I understand that this new album 'Existence Is Futile' was already written before the pandemic. Is that true?
Yes, absolutely. We wrote the majority three years ago and obviously in the studio things were adjusting, intermittent changed, proofed and hopefully upgraded. So yes, it was written before we went into the studio. In fact we had the drums recorded before the lockdown happened, which was luckily, because naturally it would have been difficult to record the rest of the record without drums.
Does it mean that you went over to Czech Republic again to meet with drummer Martin and guitarist Ashok, like you did for 'Cryptoriana'?
No, they came over here. We recorded in the same studio where we did our previous two albums, which is Grindstone Studios. It is about a twenty minutes drive from my house on the countryside. The recordings in the studio during the lockdown were not that different from other times in the studio. I used to be isolated. The lockdown enabled us to spend longer on the record. We were working half days mostly, I was home around 7pm to see my town, how desperate and abandoned it looked. Naturally we had to fly people in. Martin – as I said – finished his drums before the lockdown. Ashok on the other hand, could not fly at least until the end of July, so he did some parts at home and sent it and came later. All in all the recordings were quite relaxed, without pressure, there was no big brother looking over us, saying 'the album is going to be finished by next week' either, there was no tour coming up. It was so relaxed and I really enjoyed it because of that.
Was there a concept or a theme lyric-wise for this album?
I think it was definitely influenced by existentialism and philosophy and having travelled the world most of the time over that period, I think what we saw and what we experienced has a definite influence on the lyrics. All our albums tend to existential flavours, fear of the unknown, the uncertainty of fate, the search for life meaning in the meaningless of life or vice versa.
Is there a kind of movement in existentialism that you support mostly, because I know that there are several directions in existentialism, isn't it?
That is true, but I just observe ideas, not cherry-picking them, without following any indoctrinated directions. It is really my interpretation; that is what it always is when I write lyrics.
But you notice on the title only already 'Existence Is Futile' that it has to do with philosophy and maybe nihilism…
Well, it has a little bit nihilism to it, but I think despite of the dark nature of the title, I believe it represents hope as well, because it basically says that if this existence is futile, then we better embrace anything within our reach, for example: this is it, this is just life, there is no higher aim when we die. We better just embrace life and what it is. I think there is a positive vibe in it as well, it is not just negative and nihilistic.
Music-wise I have the impression that it breathes more. Sometimes it remains hectic, but more open or do I see that in a wrong way?
What we did with this record, was making it as live sounding as possible. With being out on the road and playing so many concerts, we are getting used to the sound and the way we interact with each other. We wanted to make an album under the banner of 'less is more'. Not oversaturated with a dozen keyboards or lots of vocal overdubs and guitar overdubs. We just really wanted to get the best sound in minimum ways, there is breathing space and yet things sound big. We tried to avoid that there is so much going on that you struggle with the record. We wanted a very live, natural and expansive sound. It is less hectic indeed.
You have a new female keyboard player, Anabelle Iratni. I know that she is in Devilment too…
Well, Devilment is at the moment on hiatus. I don't think we will do another record. I am just too busy with Cradle Of Filth in the present and there might also be a release of the Temple Of The Black Moon album in near future in America, if I can get there later in the year. When Lindsay departed, Anabelle became the obvious choice. She is very, very talented. She plays a wide range of different instruments. She has a great voice. I just felt a little bit sorry for her, because it has been pretty much a year and a half since she joined the band and we could not introduce her in a proper way live. She was a bit a limbo. We waited a bit with advertising that she is in the band.
Recently you finally played live again in full armour, at Bloodstock festival. Tell me about this experience!
It was incredible. I always love Bloodstock. Unfortunately it meant that we had to cancel our friends at Alcatraz Fest, because we already had people here in England, the whole band had rehearsed here and we had a big truck full of pyro's and stage props, equipment and lights and anything. If we couldn't make it on time and got stuck on the border back to England, then we would have missed Bloodstock. We had no choice. It is unfortunate, but alas it is just the way things are. It is like the airline ruining my holidays, shit happens. Shit seems to happen a lot recently, due to the fucking covid-19 pandemic. But Bloodstock was amazing! It was so good to see like 20,000 people and everybody had a smile on their faces. I enjoyed hanging out in the VIP, I got to sing one song with Kreator, marvellous as well. Our show was massive, a huge production, lots of fire. It was a great weekend, my girlfriend was there, a lot of friends were coming over, it is only a one hour drive from my house. It was like a mini holiday, it was like a holiday for everybody because everybody just celebrated that these live things could happen. So many good bands, it was a fantastic weekend.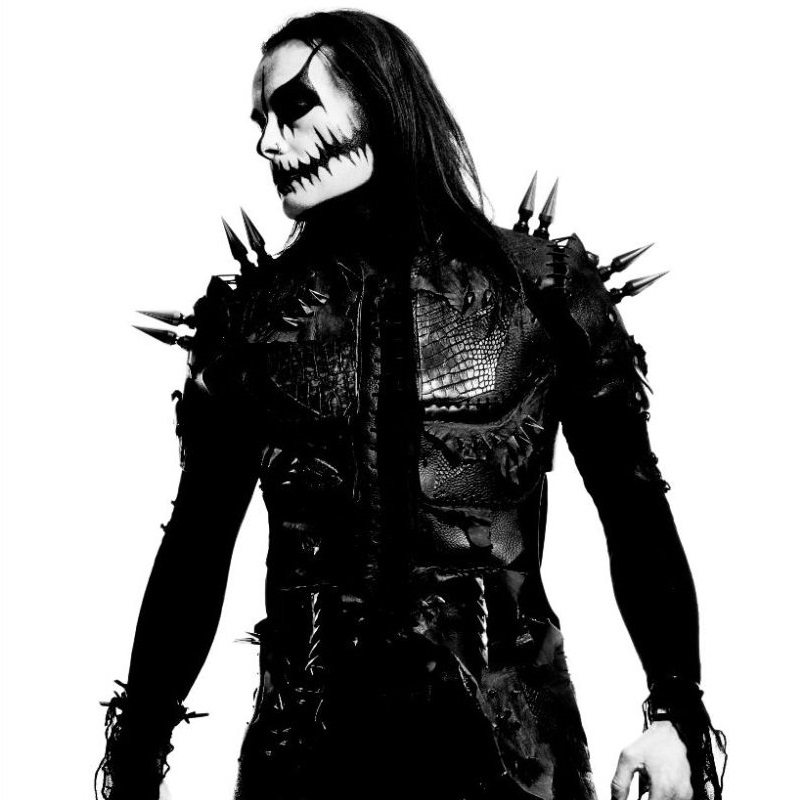 Then you really realize what you have missed, isn't it?
Absolutely. We realized that – literally – from day 1. It has been a rough time for musicians. Most of these people in the music industry did not get any help from the government at all, because of their position. We are going to be hit by all kinds of taxes, even though they did not help us at all. There were people that really struggled. Music is a live performance, bringing out records and playing gigs, and then there were none of that for a year and a half. Our work was unable to be done. We have to go back to normal as soon as possible. I think we are on the right track now.
Talking about the song 'Suffer Our Dominion', that seems to be an important song and you invited Doug 'Pinhead' Bradley again, a horror icon…
Yes, and Doug is on a bonus track as well. I hate calling them bonus tracks. They are just tracks, separated from the main bulk of the album by necessity. The song is called 'Sisters Of The Mist' and it is the third part in the trilogy. It is like a combination of the story that began with 'Her Ghost In The Fog' on the album 'Midian'. The second part is 'Swansong For A Raven' which is on the 'Nymphetamine' album. It was really fitting that Doug would be on that bonus track. He is also on 'Suffer Our Dominion' because we were looking for someone with a poetic voice. The song is probably our most social and political song ever written, about common things that are happening today like destroying our ecology. Not that Cradle Of Filth is getting politically, but it fits with the context what the album is about. Doug does the narration and he comes across almost like David Attenborough.
Yes, typical English, it is an intriguing song…
Yes, it is different. There is a lot of different material on this record.
The first video was created for the song 'Crawling King Chaos'. Can you tell something about the making of the video?
Yes, we shot two videos back to back in a big studio environment. We had a lot of fun doing them. Not anything was shot with the band though. Some of the pictures were shot back in LA. The director had to come and go in quarantine, so he invested a lot of his time in both of those videos and I think it is incredible. The second video is for 'Necromantic Fantasies' and has more narrative in it, it is more of a storyline. With 'Crawling King Chaos' I think the video sums up the theme of the song, the nature of the song. It is violent, it is hellish, powerful…
What are the plans of the near future?
Well, initially I mentioned the release of the second video and there will be a third video coming as well that comes out around the date of release which is 22/10. It will be almost a year after the record was finished. Actually we did not want to bring an album out during the summit of the pandemic when you cannot tour. Now in October we will undertake a 'Cruelty And The Beast' tour which was supposed to be done last year in the US. So, we are doing that in October and we are back in England with Halloween for a special one off Halloween show at the London Roundhouse, which is a very well known venue. That's it for this year. Next year, in 2022, we have a very extensive schedule already planned, but that is subject to change, it depends on how people are surviving the pandemic.