ANGELUS APATRIDA enter official album charts in Spain at # 1 Spain's leading Thrash Metal band ANGELUS APATRIDA have just releaesed their 7th, self-titled album worldwide via Century Media Records and it has not achieved to conquer the top of the official album charts in Spain, but also marks the band's first ever chart entries in Germany and Switzerland. Here is an overview of the chart results for "Angelus Apatrida":
Spain: # 1
Germany: # 49
Switzerland: # 41
ANGELUS APATRIDA checked in with a comment about the amazing # 1 chart entry in Spain as follows: "We made it to #1 in Spanish charts!!! We can't believe it, this is not only a giant step for us, but for the whole Metal scene in this country. We don't get any radio, we don't get any TV, we are not featured in the more relevant media, but still we can make it to the top thanks to the hard work of a great team and those who are passionate about Heavy Metal music; thousands of you helped us making it this far by buying or listening 'Angelus Apatrida', you are the best! Thanks for helping us put Metal back to where it belongs!!!"
ANGELUS APATRIDA's previous albums had reached the following highest chart positions in Spain upon release: "Clockwork" (2010): # 44 , "The Call" (2012): # 14, "Hidden Evolution" (2015): # 2 and "Cabaret de la Guillotine" (2018): # 4. 
Check out "We Stand Alone" and "The Age Of Disinformation" below. 
Also check out "Indoctrinate" in a video clip by Fernando Morales / Micoco Graphics and "Bleed The Crown" below. 
The band comment about the album:
"This new album is the culmination of one year working nonstop during a global pandemic. We've been able to get all the bad feelings and emotions lived during 2020 and transform them into something good with positive attitude; no doubt this is the best bunch of songs that we've ever created, full of creativity and incredible sound and production, back to the roots. If you're with us for a long time, we're pretty sure you're gonna enjoy this like the first time, and if you're new in the office, this is the best card invitation for your first contact. It's pure power and raw energy, the most aggressive, angry and violent songs together in one straight-to-your-face album. This is hostile music for hostile times. Watch out your neck and enjoy the double AA!"
"Angelus Apatrida" ("/ˈan-je-lus – a-ˈpa-tri-da/") was produced by the band, recorded with Juanan López in September/October at Baboon Records, in Albacete, Spain and then mixed and mastered by Christopher "Zeuss" Harris (Rob Zombie, Overkill, Hatebreed, Municipal Waste, Shadows Fall) at Planet-Z in Wilbraham, MA, USA.
"Angelus Apatrida" once again comes with artwork by Gyula Havancsák (Annihilator, Destruction, Stratovarius) and is available as limited CD Jewelcase in O-Card or as 180g. vinyl LP with the album on CD as bonus, on either black vinyl or in limited edition coloured runs (Creamy White vinyl: 100x copies from CM Webshop, Yellow vinyl: 200x copies from CM Distro and Red vinyl: 300x copies for Spain). And here is the album's tracklisting:
 
ANGELUS APATRIDA – "Angelus Apatrida" (46:37):
1. Indoctrinate (05:39)
2. Bleed The Crown (04:26)
3. The Age Of Disinformation (04:42)
4. Rise Or Fall (03:36)
5. Childhood's End (03:49)
6. Disposable Liberty (04:21)
7. We Stand Alone (04:11)
8. Through The Glass (05:41)
9. Empire Of Shame (04:17)
10. Into The Well (05:47)
 
The album's can be ordered AT THIS LOCATION.
 
ANGELUS APATRIDA's previously announced next European tour for February 2021 with Evil Invaders and Schizophrenia has unfortunately been recently postponed and more details about it will be announced soon. In the meantime, here is an overview of all other live-dates already announced for the band:
 
ANGELUS APATRIDA live:
03.06.2021 Viveiro (Spain) – Resurrection Fest
06.06.2021 Montagny (France) – Lions Metal Fest 
03.07.2021 Barcelona (Spain) – Barcelona Rock Fest
15.07.2021 Balingen (Germany) – Bang Your Head
16.07.201 Gavle (Sweden) – Gefle Metal Festival
07.08.201 Osterholz-Scharmbeck (Germany) – Burning Q
18-21.08.2021 Dinkelsbühl (Germany) – Summer Breeze
19-22.08.2021 Saint-Noff (France) – Motocultor
04.09.2021 Málaga (Spain) – Guarrock
18.09.2021 Vieux Boucau Landes (France) – After Dark
More dates to be announced soon…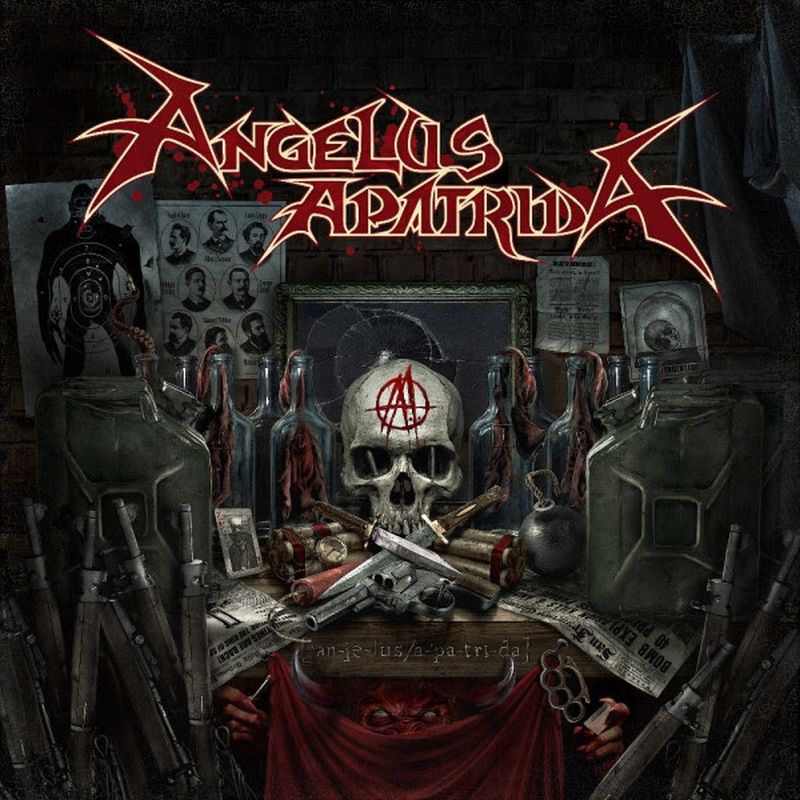 Check de onderstaande socials voor meer informatie over deze band