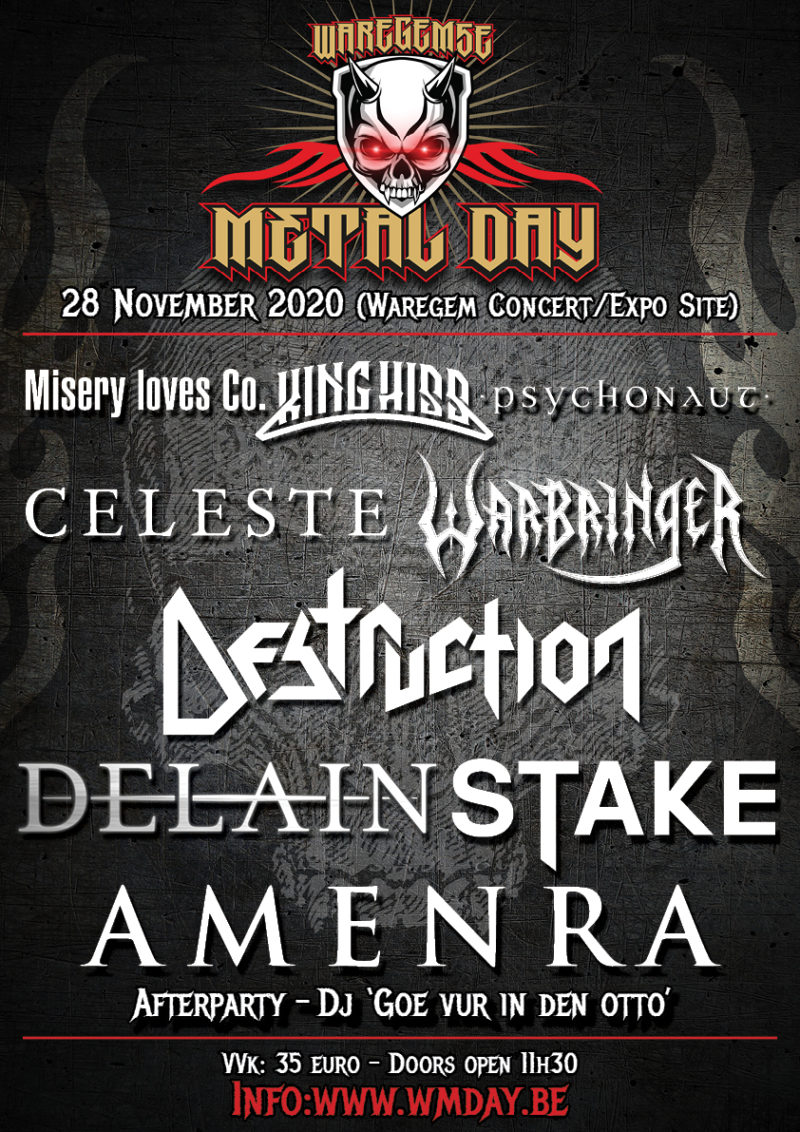 WAREGEMSE METAL DAY 2020
Finally, een metaldag in Waregem – de bakermat van legendarische metal events, uit vervlogen donkere tijden. Now the good times are back !
Wfest presenteert met gepaste trots de eerste editie van 'WMD', de Waregemse Metal Day, 28 november 2020. De hemel zal de 28ste november boven Waregem hemels zwart kleuren, met op het podium van de Concert & Expo hall 9 betere zwaargewichten uit de scene.
Metalheads, prepare to be dazzled and confused op de snoeiharde tonen van Psychonaut, Misery loves co, Warbringer, Celeste, King Hiss,  Destruction, Delain, Stake en Amenra.
Een dj set van "Goe vur in den otto" is de afsluiter van onze hellhole! Brothers and sisters, be part of the WMD army !
Tijdschema
 11u30: Deuren open
 13u00-13u45: Psychonaut
 14u15-15u00: Misery Loves Co
 15u30-16u10: Warbringer
 16u40-17u30: King Hiss
 18u00-18u50: Celeste
 19u20 -20u35: Destruction
 21u05-22u05: Delain*
 22u35-23u35: Stake
 00u05-01u05: Amenra
Dj set "Goe vur in den otto" (einde: 03h00)